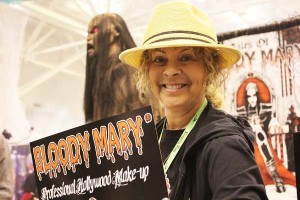 "I had done all of the blood application that first night to the doll house that they were going to blow up. It was the start of my career and the beginning of my new identity, Bloody Mary: The Makeup Lady."
Most Haunters know her as Bloody Mary or the "Make-Up Lady". Maybe you know her from her awesome Special FX creations in films like Titanic, Behind Enemy Lines, Shooter, Pumpkinhead II, or VooDoo? But did you know that Bobbie Weiner is also the main supplier of  camouflage make-up to Department of Defense and the woman behind most of the face paint sold for those wacky sports fans who paint their faces different colors? If you have ever used camo paint, smeared your team colors all over your face, or zombified your head for Halloween; you have probably used her Bloody Mary line of make-up.
Bobbie has been involved in magazines and shows like Entertainment Tonight, CNN, The Super Bowl, WWE, and many more. She travels worldwide to attend trade shows, perform her magical skills at seminars, and transform ordinary people into extraordinary beings. If you want to know more about Bobbie Weiner, keep reading…
Most Haunters know you as Bloody Mary. How did you get that nickname?
I was working on my very first film, Pumpkinhead II
, 3 days out of Makeup school, and got a call to come on and be a gofer for the key makeup lady. Got paid 35.00, worked 15 hours and the crew nicknamed me "Bloody Mary" that night. I had done all of the blood application that first night to the doll house that they were going to blow up. It was the start of my career and the beginning of my new identity, Bloody Mary: The Makeup Lady.
Your success story is very inspirational! What was the tipping point in your career when you realized that you were on the right track?
When I did the film Voodoo, I did Jack Vance's makeup (the star of Eraserhead) and we would talk in between scenes and he told me to follow my passion. Be myself because the whole crew and actors liked me.
Charities and events seem to be a passion for you. Why do you take such an interest in helping other people?
When I was growing up I worked in a Thrift Shop after school during highschool years. I wanted a job and my Dad told me I needed a job. The Thrift Shop was for a charity, "Research of Children's Cancer" and I learned a lot dealing with all kinds of people and always felt that my job taught me how to deal with people and helped me to grow. Store closed up while I was in my first year of college and I went in and took it over and made a private business out of it. I never forgot where I came from and how I started in my working career. I had that store for 16 years, sold it and moved to Los Angeles.
Are all of your accomplishments just stepping-stones to where you are now or more like building blocks to your overall success?
Everything is connected in some way. My business is like building blocks. It all is related to my background of F/X Makeup artist.
What's a typical day look like for the entrepreneur Bobbie Weiner?
I get up early and go to the gym, Get some tea at my favorite shop, Starbucks, go into the office and start my day at work. I usually go into the art dept. and see how the comic book is coming along. The art work takes the longest. My business is so diversified, you never know what is coming down the track. The phones start ringing and it could be the Army, Navy, Marines, colleges or high schools that call all day for face paint. Today was a great call from Warner Bros. We work with the studios and their marketing departments for the Bloody Mary line of Makeup
.I always check my latest emails. I am up on and off all night since we do a huge business in Europe. They are up when we go to sleep so they try to get me ASAP, but sometimes I get called at 2-3 am in the morning. Business is business. I work till about 8 every night when I am in my Texas office.
On the horror side of things, what is the favorite part of your business? Trade Shows, marketing, designing, writing, creating, socializing, etc?
Trade Shows and socializing. I love speaking also at the conventions and doing "Bloody Mary" Makeup To Die For Workshops.
What is the main focus of your book "I Can Do This" and why did you create it?
I started writing on airplanes. I travel so much and people would want to know what Bloody Mary was. All of my jackets have the name Bloody Mary embroidered somewhere on them. So I would tell them about my business and they loved the story and said I should write a book and someone should do a movie about my story. I got enough feedback, so I decided to start writing. I am really glad I did and it is one of the best accomplishments I have done.
Are your products available for other Haunters to sell such as affiliates or wholesale programs?
We have a full wholesale program and have a lot of distributors all over the world selling our products. Haunts also sell our products in their gift stores at their Haunts. Go to the Bloody Mary Website.
Name some websites that all horror and Halloween junkies should check out.
For the aspiring haunter in business, a few words of advice for overcoming obstacles and becoming a leader.
Work in a Haunt first for a couple of years. It is a tough business and there is a lot to learn. Ask a lot of questions and go to Halloween Shows and take the workshops so you can learn all there is to learn about Haunted Houses.
Find more of Bobbie here:
Her Website: Dear Bloody Mary
Become A Re-Seller of Bloody Mary Products!
For More Information About Special FX and the Haunted House Industry, Sign Up For my FREE Newsletter: The Haunter's Toolbox.