Podcast: Play in new window | Download (Duration: 1:10:05 — 96.2MB)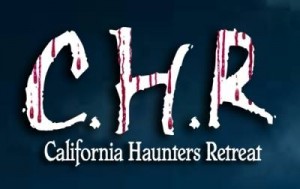 In this episode of HaunTopic Radio, we get Dave Enloe from The Chamber Haunt/Scream in the Dark/The California Haunters Retreat on the mic to talk about Why Haunt Gatherings are Important, Advice For Starting Up our Haunt, and How Important is Marketing for Your Haunted House?
Rich Christensen fills The Haunter's Toolbox full of foam and foam tool goodness with "Foam Wars: The Tools for Carving Foam and Which Type of Foam to Use".
We also strap Dave to the electric chair and bring in another NEW segment we called The Electric Chair Round. This is where we fire some questions asked by you and us and get Dave's quick replies.
What is the California Haunter's Retreat?
We are a Haunted Attraction Gathering, not a convention.. (There are plenty of awesome conventions out there.)
We have no vendors.. (again there are plenty of places to go around the US to see new products for purchase.)
There are no fees at all.. (all you do is book a room, feed your face, and buy your drinks.)
So why come hang out with us? If you are serious about the haunt industry, this is the place to meet people that have been doing it on all levels for a LOT of years. This is the one on one grass roots gathering of the West Coast!! Going to the big conventions as most of us have, it is hard to meet good people in a one on one situation without being sidetracked by so many other things going on.
If you are not into the working side of a Haunted Attraction you will probably be bored to death. We are a group of people that are home haunters, semi pro haunters, and pro haunters that understand information and knowledge about our industry, which is the most important asset you can ever have.
Oh yeah.. And it gives us a reason to have a party at our costume ball!!!!
Haunt Topics in this episode:
Congrats to Todd Francis who won this mask!

A hand crafted Clown latex mask from Face Factory FX

The winner of this calendar is "cotyrs123". Please contact us to claim your prize!

A 2014 Haunted Halloween Calendar (with Haunt Photos from all over the world!)

Sign Up Here (FREE) So You Don't Miss the Next Giveaway! If You Are Not Currently a Haunter's Toolbox Member.