Podcast: Play in new window | Download (Duration: 1:17:21 — 70.8MB)
We are going to start moving all podcasts to HaunTopic.com. Read the entire article there.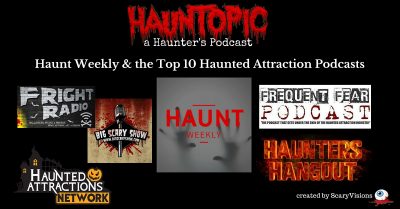 There are quite a few unique Haunted Attraction Podcasts and Audio Shows out there on the internet today, each with their own style and value. Haunt Weekly is one of those shows. Jonathan Bailey & Crystal Ramey produce one audio show each week that covers one specific topic within the haunt industry. They dig deep into subjects such as Scare Actor Training, Haunted Attraction Safety, and Industry News. Plus new podcast topics each week. It gets me excited to see what topic their coming up with next! We also cover other Haunted Attraction Podcasts you may not know about.