Podcast: Play in new window | Download (Duration: 45:08 — 51.7MB)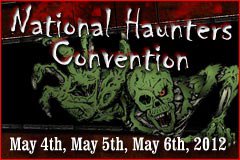 In Episode 7 of HaunTopic Radio we interview Michael Bruner from The National Halloween, Horror, Haunted House, and Hearse Convention which will be held at the Greater Philadelphia Expo Center on May 4th, 5th, & 6th. He shares his insights on the show, what makes it different than the other conventions, and fills us in on who is getting married at the show!
I know we said that we would be releasing new episodes on the 6th, 16th, & 26th of each month; however, with it being the start of Convention Season- we just can't seem to help ourselves. We will be keeping up with all the conventions and we will be releasing those as soon as we finish each one. So I guess you can call them bonus episodes. You won't mind too much, right?
We WILL be covering other topics as soon as we push these Conventions out to you. If you're not interested in the Conventions or Trade Shows, keep listening because we'll be throwing in a few surprises to keep you satisfied. If you like this one, don't forget to share it with your friends!
Find Out More About The National Halloween, Horror, Haunted House, & Hearse Convention:
National Haunter's Convention Website
Tickets and Prices
Training & Education
Video From the Show
 Subscribe to Our Weekly Newsletter The Haunter's Toolbox and Get The Best of ScaryVisions & HaunTopic! 
Click Here to Subscribe for FREE!!