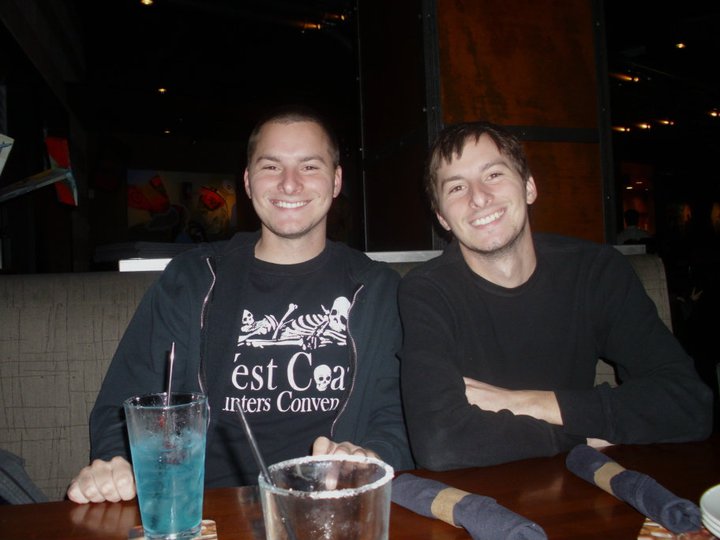 I found these guys on YouTube…but how can you miss them? With over 80,000 channel views, almost 500 haunt subcribers, and close to 300 videos…one would think that their Halloween passion cup would be overflowing and creating an awful mess on the computer desk of life. Jeromy and Zachary Ball live and breathe Halloween! They drink from a bottomless cup of passion and keep refilling it everyday! Granted sometimes their topics are not specifically targeted on Special Effects, Halloween, or Home Haunting…however, as a Haunter you can always find something in their videos that you can relate to.
Read my interview, check out their YouTube channel, and get inspired by the energy these guys radiate to the souls and minds of Haunters like you.
What was your very first memory of Halloween?
Our first memory of Halloween was 1992. We were ghosts that year and we went to our first "yard haunt" and got the heck scared out of us- by a light up ghost and a leaf blower. Little did we know this fateful night would plant the Haunting seed within us.
How old are you guys and what keeps you passionate about Haunting?
We are 22 and will be 23 in March. Passion: The thrill of scaring people and the ability to create something from nothing. It's just that bug. The haunting bug we all have! We can't really describe it but it's just a simple love of the holiday. Whether it's watching our old home movies, learning about the history of Halloween, or collecting old Collegeville costumes; we are completely intrigued with this one day. It's a fun and extreme hobby.
Have you ever produced a video and gone back to delete it after you put it on youtube because of its content?
Yes and no. Yes because we accidentaly forgot to edit out. It could be something we said that we needed to edit out. Or something we felt in retrospect we didn't want to share. Or someone saying they didn't want to be on camera and us forgetting to edit out the 3 seconds they were on camera. Out of all of our videos, less than 5 we had to take down and re-upload.
How did you meet Mat and Wes and how did you get involved in the Zombie Apocalypse?
Jeromy: I work with Matt and him and his friends came to the haunt in 2009. They all pretty much loved it! Coincidently there was this web comic: Matt drew about Zombies (which eventually became episode 1) that the same friends that came to the haunt were looking to turn in to a short film. We were asked if we'd like to do the special effects and makeup solely based off of the work in our haunt, which acted like a portfolio for us.
Tell us more about your Haunt and what your goals are for its growth?
The haunt itself is called "The Hyde Street Massacre." It includes a full back story that takes place in the 1950's which can be viewed on our website. We are an actor based haunt using over 20 actors each year. We are very detail oriented. Growing up at Disneyland has pretty much instilled that mentality in our heads. With us living so close to Knotts Scary Farm, Halloween Horror Nights, and Universal we have to keep it cranked up a notch for just being a home haunt.
Ideally a pro haunt, where we could own a warehouse and we have a few haunts that all tie in to the Hyde Street theme. But for now- get our own place with a large backyard. Right now we are at our folks place and have exhausted all the room they will allow us. We have plans on adding a kitchen, dining room, and bathroom. If we are in the same location this year we have to get rid of a room to add a room.
What are your other passions in life?
We are your average nerds. We LOVE movies! We are the biggest "fanboys" for Harry Potter though. Obsessed would put it lightly. Star Wars, Back to the Future, and Lord of the Rings- all of the nerd niche movies. Obviously horror is something we will never stop loving as well. Music is another big part of our lives. We grew up on the classic american musicals with the likes of Garland and Kelly. So we have a deep love for theater and show tunes; as well as oldies and The Beatles. Also we are obsessed with country music- having our parents to thank for growing us up on it. All of which has made us both hopeless romantics. We both played instruments growing up: Zach played the Trombone while Jeromy played the Alto Sax.
Name a few things that make the Ball brothers different from each other?
Zach: Jeromy has 2 moles on the upper right of his lip….That's it! We are exactly the same in every other aspect. Ha Ha. Seriously though, there's not too much. We always liked the same things, we even share all of our friends. We haven't shared girlfriends though, so our taste in woman is completely different. Zach has been known to be the more laid back type and Jeromy has been known to be the more anxious in your face type. During the haunt Zach will have an idea and Jeromy will have a completely opposite idea. We always meet in the middle though so our haunt turns out to be an explosion of two separate ideas coming together. When this happens to the outsider it would look like we are fighting but really it's just an intense debate on how to make it work and keep us both happy.
Who is someone famous you would like to meet?
Tom Savini would be fun to meet, but we live in Southern California. We meet celebrities everyday… we golfed with Snoop Dogg yesterday and had coffee with our good buddy Harry Ford this morning… Seriously though it would be fun to meet anyone. We've met a few celebrities in our life so no one in particular.
Give your fans 3 haunting tips they can apply today.
1)      Stay organized.
2)      It's dark no one will know what you didn't get done.
3)      Get involved in the community! We are all involved in our community which has some amazing people in it. It's                 fun helping and gets your name out there.
How about some BloodShed Brother words of inspiration?
Just have fun. None of this is worth it if you are not enjoying yourself on Halloween.
Do you have a Haunt Mentor you want me to interview? How about scary information you have but don't want to write about it? How about a topic you want me to talk about on Rotting Flesh Radio? Feel free to email me at brian@scaryvisions.com and I will put your name on it. Keep It Scary Scarelings….
Find the Bloodshed Brothers here:
http://www.youtube.com/user/thebloodshedbrothers
http://mattandweszombie.blogspot.com/