???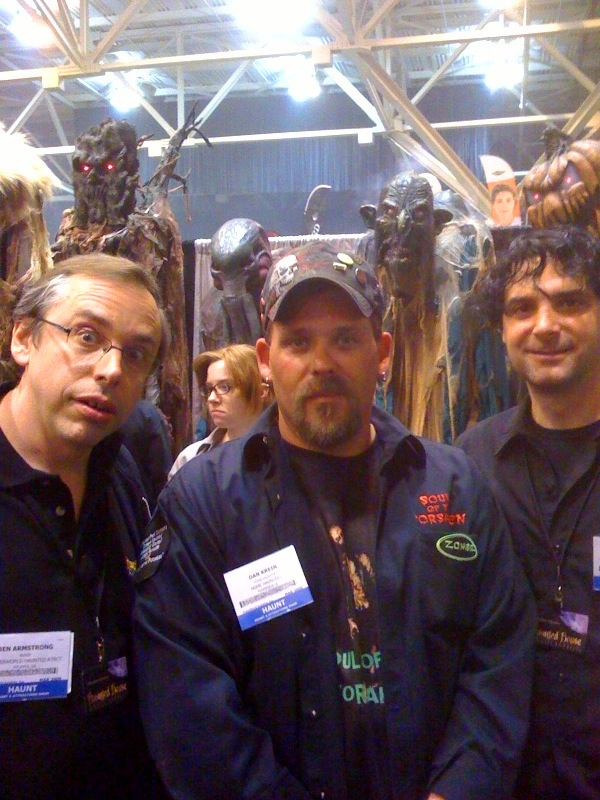 When I first saw Dan Krein's video of Souls of the Forsaken I had to replay it several times just to catch all the detail he had put into his Home Haunt! His haunt ranked among the few who made it to the top of the Home Haunter's Association for Top Home Haunts of 2010. You can feel his passion for Halloween just by reading this interview. And passion is what really keep us going into the next year anyway, right? I know that is what keeps me typing, podcasting, blogging, and haunting. Passion is contagious and I'm starting to feel a bit like attending a trade show or something. I can relate to Dan and plan on grabbing a beer with him at TransWorld this year. If this interview with Dan doesn't spark a bit of passion in you then pull the dagger out of your heart, close down your Haunt, and go watch a Justin Bieber video.
Congrats on making the Top 15 at the Home Haunter's Association!
It was an honor to be listed in the Top 15 Home Haunts for the HHA contest. There are many great home haunts out there and to be considered as a finalist was such an honor. I hope that this will bring more attention to my haunt and get my haunt noticed by the professionals. My plan is to open my own professional haunt in the very near future. I feel that I am ready and can't wait to go pro. It's my dream.
How did you get started in Home Haunting?
I started small with a few Halloween props in the front yard. My wife had purchased some gory items on Ebay and we displayed them in the front yard and garage. She found out about Transworld while looking up Halloween related stuff on the internet. She asked the supplier of our first props, Jeremy from Creepy Collections (who was just starting out his business), to help us get into the show . He did and so in 2007 we attended our first Transworld in Chicago. This was "the moment" when all things changed. I entered the show and all hell broke loose. I was reborn as a Home Haunter!!!!!
How many years have you been converting your home into a Halloween playground?
2011 will be my 6th year as a home haunter. Over the past 2 years I consider myself to be an extreme home haunter. The difference I believe is in the addition of my backyard walk through haunted house. So not only do I display and have an attraction in my front yard and garage. But I also have a fully constructed 7 room haunted house with actors consuming my entire backyard.
What are the good/evil sides of Home Haunting?
The Pros: seeing all the visitors that come out each year and enjoying themselves. Having a great community function that all can attend. I love to hear screams and laughs from everyone. I know when that is happening that all the blood sweat and tears I put into the haunt is well worth it.  I love the positive feed back that the visitors tell me. I can hear them talking about the haunt as they are getting back into their cars and you know they enjoyed themselves. Each year there are hundreds of repeaters- this is awesome. Last year I joined "Haunts Against Hunger" and raised over $5,000 worth of food for my local food pantery. The other pro is that I am doing what I really, and I mean really love! This is my passion and I believe that I finally have found my calling.
The cons that arise start with not being able to spend a lot of time with my family while getting the haunt ready each year. Everyone is involved with the haunt when October rolls around but otherwise I don't see enough of them with the haunt and a full-time job.  I hate having to take it all down. I have no real place to store it. And have not been able to park in my garage in years, eat in my dining room, or finish my basement due to all the props. A lot of things around the house get put on the back burner due to time and funds that are not available.   It takes 2 months to put up the haunt and a month to take it down. I really spend 365 days a year planning, designing, constructing then building the haunt.
[youtube=http://www.youtube.com/watch?v=ZgJP6eZpea0&w=480&h=390]
Do you build or buy most of your props?
Most of the props are purchased while attending the Transwold show. I do make my own props now and am learning all the time and expanding my collection. I design the layout , decorate and highly detail the haunt each year. My favorite vendors are Ghost Ride Prod, Unit 70, Creepy Collections, and Distortions. There are so many others but too many to list. I love them all.
What is one Halloween memory that motivated you and led you here?
My vivid memory comes from Brookfield JC's haunted house. I look back upon it as a terrifying experience for a young boy. But I enjoyed every minute of it. Chainsaws have a particular place in my heart…
Word of encouragement for those aspiring Haunters out there?
Always enjoy doing it.  Always try to surpass your own expectations. Challenge yourself to make it better each year. And always try to help out a fellow Home Haunter..
Contact Dan Krein:
Website: http://www.soulsoftheforsaken.com
YouTube: http://www.youtube.com/user/SoulsOfTheForsaken
Flickr: http://www.flickr.com/photos/18383019@N04
Email: hauntedsouls@sbcglobal.net