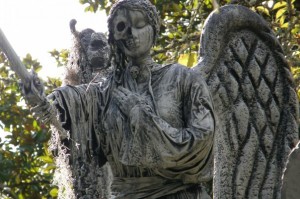 If you are involved in the Haunt Industry (home or pro), you have heard of Chris and Jeff Davis of Davis Graveyard. I am subscribed to their email updates and got this on January 2, 2012. You gotta check out what they are up to for the best year yet! Here's the email….
"As we start the new year we thought we would begin by sending out an overview of our plans for 2012"
2012 Haunters DVD Set
The deadline for submitting video or photos of your 2011 haunt is Jan 31st.  The response has been a little slow this year, so we encourage you to submit even if you have no video, a slideshow of photos of your haunt works too!  If you've posted a video on YouTube then send us the file you used to upload your video and we will include it in the collection.  See the website for more details
2012 West Coast Haunters Convention
WCHC will be Fri/Sat/Sun June 1-3 at the DoubleTree by Hilton in Portland, OR.  This is the first year the convention will be held in a hotel and it's first in Portland.  There will be a Costume ball on Saturday night at 8pm on the 2nd.  There will be over 50 hours of education throughout the weekend.  The 18,000 sq ft exhibit hall is more than twice the size of previous years.  This should be a show you won't want to miss and will be one you will want to attend each year.  Visit the website to register or find out more information.
2012 Davis Graveyard Workshops
We plan on offering more workshops this year.  We haven't set the schedule yet but you can expect our normal tombstone class to be one of them.  We are also considering a monster mud class, corpsing workshop and a monument workshop.  We'd really like to hear from everyone on what they'd like to see and dates that work for them to provide useful feedback for setting the workshop schedule.
2012 HAuNTcon
HAuNTcon is being held May 3-7 in Monroeville, PA and the preshow tour Wednesday and Thursday before the tour.   We will be attending and assisting with the Make-n-takes again this year, as well as presenting a seminar.    Monroeville has the distinction of having the Monroeville Mall which was used as the backdrop of the 1978 classic Dawn of the Dead by George A Romero.  The costume ball is going to be a Zombie ball just because of the location.   This should be a great convention and as always if anyone wants to attend with us we'd be happy to have you. Visit HAuNTcon.com com for more information.
You can keep update with the hauntings at the Davis Graveyard by following us on Facebook.
Talk to you all later this year!
Happy Haunting,