Podcast: Play in new window | Download (Duration: 1:16:48 — 105.5MB)
As a seasoned Haunt Owner or a first time Haunt Manager, you know th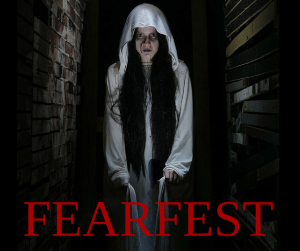 at it is difficult to increase attendance each season and also save money on marketing. What if there was a way to do both at the same time?
Greg Allen, owner of Fearfest Haunted House in Columbia-MO, meets us in the dungeon for some secret tips and tactics to get more with your marketing dollar. He also shares the struggles he went through those first years as a new Haunt Owner. After 11 years of managing Fearfest, he is still fine tuning his skills but has learned a lot from experimentation and some failures along the way.
You also get a behind-the-scenes audio exclusive as I recorded a LIVE WALK THROUGH while we went through the Forbidden Haunted House within Fearfest.
Yes…me, my wife, and my 16 year old son get startled and the girls in front of us screamed a lot! Make sure you listen to this episode to hear us scream.
Here are a few things you will discover in this episode of HaunTopic Radio:
How Greg saved $65,000 in marketing and still increased his attendance
A simple way to train your scare actors and keep them coming back
How to build permanent structures without spending lots of cash
How one mistake cost Greg $1,000s of dollars and hurt his attendance
Using side shows to entertain your guests as they wait in line
We also play some Scary Christmas Tunes from Sam Haynes. He is also giving away 5 Digital Downloads of his CD "Spine Chillers"!! You must be a member of HaunTopic Radio to enter. You can subscribe here for free.
HaunTopic Links in the show:
Win 1 of 5 Digital Audio Downloads from Sam Haynes! You must be a member of our Haunter's Toolbox Newsletter (it's free.) Subscribe Here