Podcast: Play in new window | Download (Duration: 1:03:43 — 87.5MB)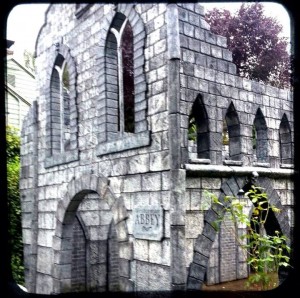 In this episode of HaunTopic Radio, we unearth Chris and Jeff Davis from The Davis Graveyard to find out all of their foam carving secrets and how you can create realistic tombstones out of foam. They reveal the best foam carving tools you'll need in your toolbox and how to get started with the tools you already have. We also discuss monster mud, creating their 3 story abbey, and how they keep their passion alive all year long.
The Davis Graveyard has been mentioned on media outlets such as Extreme Makeover Home Edition, Haunted Attraction Magazine, FearNet, and many of their local news resources.
Don't let all of their high quality props fool you. They started out with the store bought tombstones and props too! With some research and messing up, you can make some cool foam carvings yourself. We are going to try these techniques here at HaunTopic Radio because we might be a little guilty of the store bought props too…
Chris and Jeff love to teach what they know at Haunted House conventions in the off-season and at their home. You might just have to meet up with them in person to learn of few more secrets of your own.
The Davis Graveyard is located in Milwaukie, Oregon and open throughout the entire month of October. Check their website for updates and a full schedule so you can see this haunt masterpiece for yourself.
Topics and Links:
Terror Syndicate (where they got started)
Time For A NEW Contest!! Here are the prizes this month. All entries must be in by October 24th. Support our sponsors by checking out their websites and products. You must be a member of The Haunter's Toolbox to win…it's FREE.
Thanks to HauntLife.com for donating these prizes for October! We are giving away 1 Woman's & 1 Man's Haunt Life T-Shirt any size. And 1 XL Man's HAuNTcon 2013 T-Shirt. (3 Winners)
Sign Up before October 24th.