Podcast: Play in new window | Download (Duration: 48:34 — 55.6MB)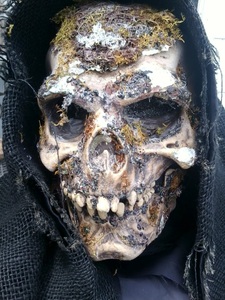 In Episode 25 of HaunTopic Radio we chat with Damon Carson of Fright Masters Props and House of Fright. Damon has loved Halloween ever since he was a little boy & has turned his passion into building props for other Haunters. We discuss Things You Can Do To Keep Volunteers Coming Back, a few Classic Horror Movies You May Have Not Heard Of, and Some Of the Biggest Challenges When Owning Your Own Haunt.
Damon has been involved with Halloween & Haunting for most of his life. Whether it was the horror movies he watched as a boy, helping the JayCee's raise money by putting on a Haunt, or his experience in operating his own Haunt; Halloween has always been holding his hand along the way. And the kicker is…we have lived in the same town most of our lives and just met each other a few years ago.
Damon has offered to give all listeners 20% OFF  ON ALL PROPS AT FRIGHTMASTERS.COM until Halloween & the prize donated this month is a $50 Gift Card from Fright Masters as well. On Frightmasters you will find props, commercials for your Haunt, & a few other items for your next Halloween project. Speaking of prizes…
THE WINNERS OF THIS MONTH'S GIVE AWAY ARE:
The Winners of Fright Times Magazine: John Wherry & Shawn Morse
The Winner of the $50 Gift Card from Fright Masters: Bo Sommerville
FIND DAMON HERE:
FrightMasters.com– Click here for 20% OFF your next Halloween Props
Friend Damon on Facebook– Look Damon up and say Hi.
KICKSTARTER PROJECT: 1031 COMICS– If you like Comic Books & Haunted Attractions- You'll love this!