Podcast: Play in new window | Download (Duration: 56:56 — 78.2MB)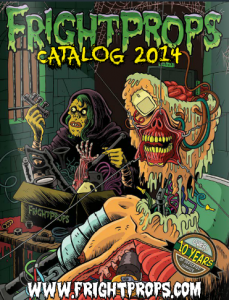 In this episode of HaunTopic Radio, we kidnap Doug Anderson from the Halloween and Haunted House supply company Fright Props! Doug gives his insights on why you need to attend the Transworld Halloween and Attractions Show, what has changed in the haunt industry in the last 10 years, what to expect from Fright Props in the upcoming months, and some ideas to take your Haunt to the next level. We also strap Doug into the electric chair and squeeze some personal information out of him until he confesses.
If you have ordered anything online for your Haunted House, you have probably ran into Fright Props along the way. FrightProps.com has everything you need to pimp out your Home Haunt or add those extra details to your existing Haunted Attraction. From pneumatics to flame resistant materials. Fogs and scents. Masks and weapons. And a whole lot more! Doug has been selling and building high quality fright props since 2003 and his passion shows through in this personal audio interview.
Also, if you need direction or advice on how to get started in building your own props then the Fright Props Catalog can't be overlooked. It is filled with easy-to-understand photos and diagrams to get you started. You can even find great information on the Fright Props website or view the online catalog. These resources are overloaded with scary goodness! Find these links below.
If you are attending the Transworld Halloween and Attractions show this year then you need to stop by the Fright Props Booth #323 and check out what Doug has to offer. He has added new items to the 'cash and carry' product line this year so you better bring a BIG truck!
Haunt Topics in This Episode
View the Fright Props Online Catalog
Hope to see you at Transworld!!