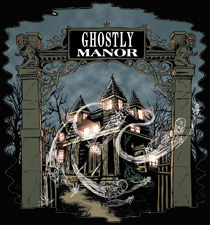 Who would have thought dressing up 24 years ago as Elvira and a Monster during Halloween Trick or Treating would have evolved into owning and operating a year round Haunted House recognized as one of Americas Best Haunts?  Bill & Jayme Criscione, owners of Ghostly Manor Thrill Center in Sandusky Ohio didn't get there overnight.  In fact, opening night for Ghostly Manor was on a Thursday night in September of 2001 … not a good time for a Haunted House advertising terror, horror and fear.
Founded in 2001, Ghostly Manor Thrill Center is an indoor, multi-attraction family entertainment center, dedicated to providing safe, thrilling entertainment at minimal cost to patrons. Located three miles away from Cedar Point in Sandusky, Ohio, Ghostly Manor Thrill Center is open all year round.  Their attractions include the nationally ranked walk-through haunted house, Ohio's first and only XD 4D Motion Theater, birthday parties as well as roller skating at Skateworld, and the Wizards Journey a 3D interactive black light Mini Golf course.
The Crisciones were transferred to Sandusky, Oh in 1987.  Bill worked for Pillsbury and ran a grain export facility in Huron, Oh.  Their two children Jenae and Billy were 5 & 4 years old at the time.  During the Halloween season the Crisciones always dressed up and greeted the local "Trick or Treaters" in costume with spooky music in the background.
As the years progressed the Crisciones gradually purchased many Halloween items and started providing some scary entertainment for visitors.  One of the early "scares" included Bill sitting near the door motionless on a bale of straw dressed as a monster.  As Jayme (dressed as Elvira) started passing out the candy, Bill would slowly stand.  The rest was history.  Needless to say there was always candy left over at the end of the night.
In the mid 90's the Halloween show and crowd grew to the point where people started walking through the Crisciones home haunt.  Many props and scenes were set up both indoors and out.  Many of their friends would help as actors and at the end of the night everyone celebrated with a Halloween party.  10 actors were used and they entertained approximately 500 people in two nights.  The Crisciones had a great time putting on the show but it was a lot of work setting up and tearing down each year.
In 2001 the Skateworld property (4 acres & 27,000 sq ft building) was purchased, both as an investment and for a location to build a permanent Haunted House.  By the year 2001, the Crisciones had already been purchasing many different props as well as attending the annual National Halloween Show for several years.  During the show they met many people in the industry across the U.S. and received a lot of help and ideas.  By that time they had a good idea of what was needed to open a commercial for-profit haunt.  They started building Ghostly Manor inside the Skateworld skating rink that summer.  The laser tag area was gutted and the Ghostly Manor Haunted House officially opened its' doors in September of 2001.  September 2001 was not a good time to open a haunt due to 9/11.  Because of sound financial planning, they were able to survive that first year even though the numbers were low.  During that first season Ghostly Manor was only open Friday, Saturday and Sunday's in late September and October.  The admission price was $10 and attendance was only several thousand people.
Sandusky, Oh is best known for Cedar Point, one of the best roller coaster amusement parks in the world.  9 million people visit the area during the summer.  The Crisciones hoped they could tap into some of that vacation crowd.  The layout of Ghostly Manor is unique in that efficiency was a priority during its' design.  They needed to provide a quality experience without the expense of many actors.  Bill came up with the idea of a central corridor system that allows actors to move throughout the haunt with ease and interact with the customers in every room.  The designed flow continually brings the patrons back to the central corridor where the actors are lurking.  The whole haunt can be up and running in 5 minutes and can provide a great show with just one actor if needed.  All this efficiency and high tech monsters comes at a price though.  The Crisciones estimate they've probably invested close to $750,000 their "hobby".
The Ghostly Manor theme is that of an old haunted mansion.  As the patrons enter, a door opens to the parlor.  They proceed through the mansion just as it would be in an old house.  The mansion contains many rooms that include a bedroom, bathroom, nursery, dining room, kitchen, den, library as well as many more.  Each room in Ghostly Manor can "scare" from multiple locations.  The scares come from places where it's least expected and the action starts as soon as the door closes.  Ghostly Manor is 7000 sq ft of very high-startle, non-stop action.  Many haunted houses rely primarily on actors.  Ghostly Manor goes that extra step and has combined a large amount of state of the art props with live actors.  Because the haunt is open year round, detail sets them apart from many of the seasonal attractions.  During the October Halloween season they may employ as many as 75 to staff the production.
Almost all of the props in Ghostly Manor are original creations.  Most of the props were designed and built in Columbus, Oh by The Scarefactory.  The Scarefactory is one of the largest suppliers in the U.S. to the haunted attraction industry.  The Scarefactory combines the latest in high tech pneumatics with quality character design.
Ghostly Manor Thrill Center is open year round.  They are open noon daily and closing hours vary during the season.  Admission is $11 for adults (10 & older), $7 for children (under 10).  Although Ghostly Manor is not recommended for children 9 and under, during the non-Halloween season they can normally tone the experience down so all ages can enjoy their visit.  Group rates are available and they will open any time by appointment for groups of 20 or more.
Each year since opening they have added the "latest and greatest" in scares as well as more detail in set design.  This year will be no different.  They guarantee this will be one of the best Haunted Houses you have ever seen.  That claim can be backed up by the fact that Ghostly Manor has received national recognition from the likes of The Travel Channel and Rand McNally's Top 10 Haunts list for 2010.  Ghostly Manor was also selected as one of America's Best Haunts for 2011 and the Darkride and Funhouse Enthusiasts  has ranked Ghostly Manor as one of their Top Ten Favorite Walkthrough Attractions six years in a row.    Ghostly Manor is also very safety conscious which keeps their insurance company happy.  Their actors DO NOT touch anyone and they have video cameras set up throughout the haunt to constantly monitor and record all activities.
For more information: