Podcast: Play in new window | Download (Duration: 1:05:21 — 89.7MB)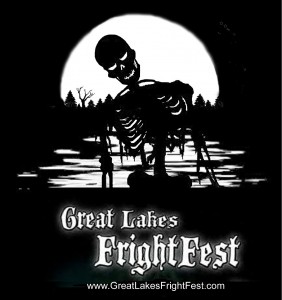 Camping. Haunted House. Haunt Gathering. Make and Takes. A weekend full of scary fun! These are just a few things you might discover on your weekend at the Great Lakes FrightFest in Petersburg, Michigan on May 30-June 1st.
Great Lakes FrightFest is an annual haunters get-together for home and pro haunters alike. Located at a campground in South East Michigan for the last 14 years. Events include activities such as show and tells, demos, make and takes, a pot luck dinner, raffle and door prizes, and events for the kids.
We interview Kkrazy Kkaren Taylor from the Great Lakes Frightfest and find out that this event isn't any normal Camp-Out. For example, this Haunt Gathering is not open to the public. Just you and other Halloween and Haunted Attraction junkies just like you! It is also a family friendly function which means you can bring the kids with you. There are children activities too! Also, most profits go into helping many charities Karen has set up. Your money is going into supporting great causes and helping others that are not as fortunate. For a complete list of charities make sure to check out their website.
Here are a few of the charities that the Great Lakes FrightFest help every year: Gleaners Food Bank, Monroe Humane Society, Kotumes 4 Kids, Kostumes 4 Kritters, and this years special charity, St. Jude's Children's Cancer research.
Great Lakes FrightFest Schedule Summary: (Click here to visit their website)

Thursday
Set Up Camp.
Start on your Haunted House Room
Friday
Breakfast and Lunch "on your own"
Finish campsite assembly
Set Up individual sites
Campfire Social
Dinner provided
Saturday
Haunt Related Demos
Children's activities all day
Pot Luck Dinner
Raffle & Door Prizes
Children's Hayride
Haunter's Against Hunger Haunted House
Breakfast, Lunch, and Dinner provided
Sunday
Haunt Related Demos
Children's activities throughout the day
Tear Down
Breakfast & Lunch provided
Win One Of These Prizes! You Must be a Member of HaunTopic. Deadline is May 24th.


Subscribe here for FREE & Be Entered Automatically.

A 30 second animated logo (for video and multimedia use) from High Tower Entertainment

1 of 5 Copies of Sam Haynes New CD "Ghost Stories"-Listen Here