Podcast: Play in new window | Download (Duration: 46:21 — 63.6MB)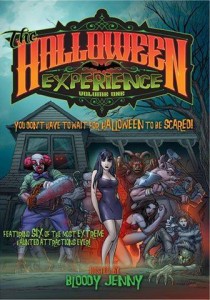 Halloween is awesome. Ask anyone, it's their favorite holiday. If they say it isn't, they're lying or are in need of having a stick removed from their back side. What's not to like about Halloween? It's all about time honored traditions like putting on a costume, trick 'r treating , all night horror movie marathons and getting the crap scared out of you at the local haunted attraction. Maybe the only bad thing about Halloween is that it's all over after October 31st. Or is it?
In this episode of HaunTopic Radio, we interview Haunted Attraction Junkies Phillip Crain & Bruce King (the creators of The Halloween Experience) about their idea to produce a DVD that features 6 different flow-throughs of some of California's best Haunted Houses. We also get their take on what makes a great Haunted Experience and the key to their persistent motivation to create this unique compilation of Haunts!
Mint In Box Productions' THE HALLOWEEN EXPERIENCE VOLUME ONE is a hosted haunted attraction showcase aimed at keeping the screams of Halloween going all year round. Haunted attractions have been featured in Travel Channel specials, countless YouTube videos and heart felt documentaries like AMERICAN SCREAM, but they've never been seen quite like this. Featuring an anthology of six haunted attraction segments, each has been filmed in a cinematic style that immerses the viewer in what can best be described as a mini-horror movie. Tying the whole experience together is the scream queen host, BLOODY JENNY (JENNY JONES), who harkens back to the campy classic horror hosts of the past. Aimed at both fans of Halloween and Horror, THE HALLOWEEN EXPERIENCE VOLUME 1 is a must buy!
Here's what people are saying about THE HALLOWEEN EXPERIENCE VOLUME ONE:

"If you're like me and love Halloween, this is the perfect DVD" –Dick Grunert "Adventure Time" Writer

"Everything I love about haunted attractions, I had a blast!"-Frighbites.BlogSpot.Com

"A nice way to visit all the haunts from an armchair." –Don Coscarelli "Phantasm' Creator/Director/Writer

The Halloween Experience Volume 2 is coming September 2014 with 5 all new haunted attractions!
Where to Buy The Halloween Experience DVDs
Haunted Attractions featured in The Halloween Experience Volume 1:
Chambers of The Mausoleum
Don't Forget Your Chance to WIN a copy of The Halloween Experience DVD VOL.1 by Subscribing to our NEWSLETTER for FREE.