Podcast: Play in new window | Download (Duration: 1:04:30 — 73.8MB)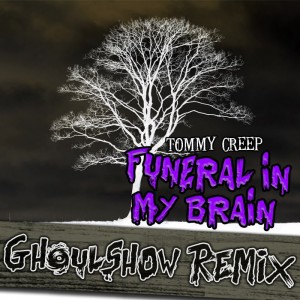 In Episode 47 of HaunTopic Radio we mix a compilation of Halloween, Haunt, & Horror music from 10 different horror musicians and bands to add atmosphere to your Haunt. We also get Kyle Lester from Ghoul Show to describe his genre of horror music and we'll play two of his songs along the way. You gotta listen to this!
Then we dive into a mix of other artists who bring the darkness through your ears and into the stem of your brain. We throw in a few individual tracks, some medleys of complete CDs, and even a couple of movie theme songs that you might recognize. Support these dark musicians by buying their songs on iTunes, Amazon, Sound Cloud, or your favorite place to buy music. This helps by keeping them around a little bit longer.
Our online seminar Scare Acting 101 with Allen Hopps from Stiltbeast Studios is on June 19th. Join us in this LIVE Webinar with video, audio, chat box, and real feedback from Allen Hopps. He will give acting tips, share his experience as a Scare Acting coach, and teach his techniques on managing and organizing actors. This online seminar is $20 and you can register here:

Register for "Scare Acting 101" with Allen Hopps on June 19th. (Online Seminar)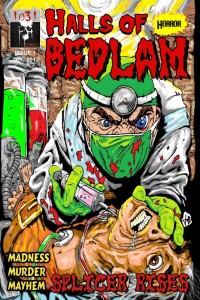 One winner will be chosen this month to win a copy of the NEW horror comic from 1031 Comics- "The Halls of Bedlam" 1031 comics are a Horror based production service that will create a personalized comic book for your Haunt theme or based on a certain favorite Haunt character in your attraction. These comic books can be sold in your gift shops, handed out as part of your advertising, or just made to make your Haunt look good as a comic book!
You have the chance to win a FREE comic book just by being a member of HaunTopic Radio. If you become a member by registering before June 24th you will be automatically entered. If you see this after June 24th, don't be sad-we give away prizes each month!
 Click Here To Join The Haunter's Toolbox
By becoming a member of the Haunter's Toolbox you will also receive new podcast episodes to your inbox and extra bonuses only to members. This is FREE and you can unsubscribe at any time. We don't send spam- only valuable information from the Haunt & Halloween Industry.
Links from the show. Preview and download music from your favorite artist:
Haunt Nation Mag: A FREE online magazine for Halloween and Horror Fanatics. WIN $2oo in Make-Up!! Read It Here
Ghoul Show: Horror music with a distinctive sound. We interview the musician Kyle Lester.  Free Music
Midnight Syndicate: Ever heard of these guys?  Buy Music
Hover: Nice ambient noises for your graveyard, mansion, or creepy place of your choice. Buy Music
Prelude to a Nightmare: The beginning of everyone's nightmare…dark circus, Kiddie Land….:-O  Buy Music
Virgil Franklin: Horror & Haunt musician who knows his music and has been around since the beginning.  Free Music
Shadow's Symphony: Creepy ambient sound with a touch of shadow. Buy Music
Verse 13: With an album called Memories From The Grave..what do you think? Buy Music
Michael Hedstrom: Boy were we glad to come across Michael's stuff! Where have we been? Buy Music
Spooky Sound Experience: Crazy nightmares from a Horror House.  Buy Music
Nox Arcana:  Goth, Dark, Haunted, Climatic, Scary…Joseph Vargo has been around for quite some time.  Buy Music
(A small percentage of each download purchased above will be donated to HaunTopic Radio. Thanks!)
Next episode we interview Chris Ainsworth from the Scarefest Convention in Canada!