Podcast: Play in new window | Download (Duration: 53:09 — 73.0MB)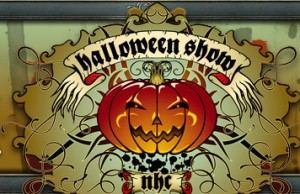 The National Halloween, Horror, Haunted House and Hearse Convention is on May 2nd- 4th, 2014 at the Expo center in Oaks, PA. Almost 100 vendors, more seminars, haunted house tours, and after-the-show events!
We talk to Michael Bruner, Co-owner of the National Haunter's Convention, about the history of the NHC and what's new for the convention this year. Including a cheaper show price and a reinvented show room floor! We also dig into Michael's background as a home haunter and why he feels that home haunters make the best Haunt Owners.
What's New for the National Haunter & Halloween Show in 2014
-A completely new Show Floor area never seen before. Be prepared to leave scared in our all new pitch black area with an expanded Haunted House run by S&C Scare Factory. Find your destiny in the dark if you dare!
– All New Show floor area with larger professional Haunted House Props and Product Sections, featuring some of the biggest names in the industry: Nevermore Productions and Creepy Collection.
– All New LOWER Show floor price of only $15. In addition, a Family Friendly expanded policy of FREE entrance for kids 12 and under! This Includes entrance to the show, access to all vendors, access to our public stage classes, as well as all the professional entertainment stage show events produced by John Bundy (Wacky Dracky) of Six Flags Great Adventure, Trump Plaza in Atlantic City and Ocean's Park of Hong Kong.
– Expanded Halloween Unique Original Works with an all new display of Donna Marian's Dark Creations (Unique Gothic Dolls and Life Size Figures!)
The Topics Covered in This Podcast:
Win one of these cool prizes! Enter before April 24th, 2014. You must be a member of The Haunter's Toolbox Newsletter. It's FREE. Sign Up Here.

All new registrants that sign up before April 24th will be automatically entered.

(2) Rust Kits from Brutal Rust

(1) Slaughterhouse Package from Stabbing House

How did you like this podcast episode? Leave a comment or share it with your friends.