Podcast: Play in new window | Download (Duration: 30:00 — 34.3MB)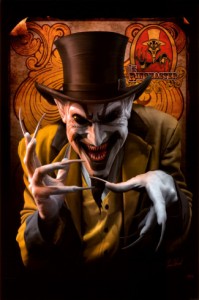 In Episode 6 of HaunTopic Radio, we discuss Why It's Important to go to Haunt and Halloween Events and maybe help you discover some shows you didn't know about. We're taking a few clips from the Transworld Haunt Show 2012 and a few other surprises along the way..
I made it back from the Transworld Halloween & Haunted Attractions Show and survived the Crazies at the Insane Shane Party. I spent Thursday night with my wife dancing with freaky characters (some small and some large) and recorded lots of video and audio for HaunTopic Radio from the Trade Room Floor on Friday & Saturday. Over the next few episodes we will be including all of our guests and friends we ran into at the show and highlighting some of the Topics that every Haunter should know about.
I also want to Thank all of my friends who met up with me at the party and show. I won't list them all because I don't want to forget anyone, but you all know who you are. It is way more important to meet your friends face-to-face than any facebook page any day! I hope to have all of you as guests on the show sometime so we can finish our conversations.
Here are some of the voices you will hear on Episode 6 of HaunTopic Radio:
Leonard Pickel: HauntCon & Hauntrepreneurs.com
Shane Dabbs: Insane Shane Party & Disturbia Haunted House
Grant Brott: Haunted House Start-Up
Dan Krein: Souls of the Foresaken
Michael Edwards: A Haunter's Life & Brain Chow Studios
Michael Bruner: The National Haunter's Convention 
Matthew Flagler: Canadian Haunted Attraction's Conference
West Coast Haunter's Convention
GoblinHaus.com: List of Conventions & Shows
If You Enjoyed This Episode and Want to Get All of Our New Episodes-Subscribe to Our Newsletter Here!