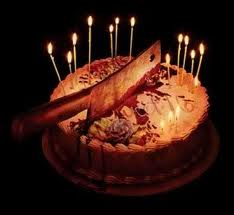 September 22, 2010….my very first post as a blogger. I was listening to a few podcasts that were guiding me to the interesting journey as a hobby blogger; not sure where the road was going to lead me. As I brainstormed for my first word….nothing was coming out. No ideas. No topics. No direction. I had no blog and no idea what I wanted to share with the world.
I consider myself more of an introvert with extroverted tendencies. I never enjoyed public speaking but I enjoy mingling in a crowd. My idea of a good time would be sitting inside the house reading a good book or doing something online. I also enjoy vacations with the family and social gatherings. But what could I write about that would help others and tap into my creative passion?
The realm of Dark and Scary!
One year later. I have met many honest people and gained many friends. I have learned how to create websites, a little bit about internet business and social media, and found a topic that I can spend hours researching and never get tired of it. I have learned quite a bit more about the horror, haunt, and Halloween industries. And I dove head first into realms of the paranormal, dark art, and artisans of the Halloween trade. There are lots and lots of dark creative people out there!
As a gift to you for my 1 year birthday of ScaryVisions.com; here is my very first post I wrote a year ago and a few of my earliest posts that you may have never seen. Enjoy!
As I sing: Happy Birthday to you, Happy Birthday to you…
Remember when: My very first post and a few classic Halloween cartoon to get you in the mood.
Haunt Advertising: A few tips on do-it-yourself advertising your haunt.
How Not To Operate A Haunt: A true story about how my brother got screwed over.
5 Types Of Scare Actors: Are you one of these actors or do know who is?
How To Keep Your Dark Passion Alive: How I keep my passion alive all year long.