Podcast: Play in new window | Download (Duration: 1:17:33 — 106.5MB)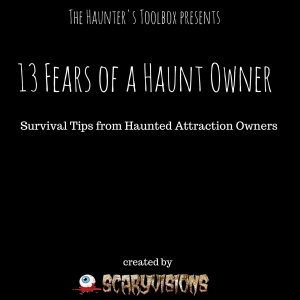 Is the fear of owning and operating your own Haunted House holding you back? What do you really need to know before you go into the Haunted Attraction Business?
These survival tips from professional haunt owners will help take some of the fear out of your mind. At least you will feel that you are not alone. I combine my experience as a Haunt Owner and my survey results of over 500 Haunt Owners in this online training seminar.
[This is the audio recording of our LIVE WEBINAR plus a few extras thrown in.]
Here are the '13 Fears' I discuss in this podcast:
Motivation to Keep Going
Time Management
Finding Reliable Help
Choosing the Right Location
Codes/Permits/Safety
Money & Funding
Community & Social Acceptance
Theme & Back Story
Managing Employees & Volunteers
Marketing/Advertising/Sponsors
Ticketing & Queue Line Efficiency
Competition
Customer Service & Bad Reviews
I also discuss 3 ways to overcome each fear. And many attendee questions answered during our seminar. This free training is great for those who are thinking about starting a Haunted Attraction or Haunt Owners who are looking for ways to take their Haunted House to the next level.
Learn more about our upcoming LIVE WEBINAR on finding the perfect location for your Haunted House Learn More About Our Location Webinar
We play some more tunes from Sam Haynes and announce the winners of 5 of his CDs listed below. Buy music from Sam here.
The winners of one of Sam's Digital Downloads of "Spine Chillers" are:
Wesley Hubbard
Head Haunter
Roger Grund
Mary Fetner
John Ficht
If you want a chance to win more prizes & get our updates in your email…Subscribe Here
Hope you enjoy the audio seminar and We'll Scare YA Next time!