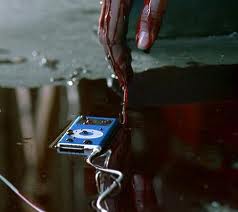 Here are some of my favorite podcasts and radio shows for my haunting fix. Podcasts and radio shows can be downloaded and put on your phone, iPod, MP3 player, or you can listen to them when you're surfing the web. Take a few minutes and check these audios out!
HauntCast – Chris Baker and the minions provide Halloween Goodness with a lot of personality and humor. Geared mainly for Home Haunters but excellent information for all Haunters. Each podcast comes out once a month and is packed with interviews, meet and greets, prop tutorials, and a new band from the horror music genre. Say hi to Skully and Grimlock for me.
Rotting Flesh Radio – Jonathan Johnson and the deadites bring you current Haunt Industry news, Haunted Attraction testimonials, and interviews with the people in the horror and haunt industries. Mixed in with Halloween music to keep you inspired all year long. Currently I couldn't find the archive section of the past shows, but the link above will take you to the most recent one. I use iTunes and search for RFR Podcast. Sit back and rot away…
Scare House – Scott Simmons from Scare House Haunted House provides a behind-the-scenes view on operating a Haunted Attraction, the people behind it all, and some great visions for your Haunted House. If you want some ideas for your Haunt business, you gotta check this one out!
Halloween Haunt – The Halloween Haunter gets you educated on the History Of Halloween, creepy poems, stories of the dead, and a variety of topics from the dark and sinister. He only does this podcast through October and has years of older episodes to keep you in the mood.
 Haunted Radio – A hidden resource for many of my haunt friends. Who else has listened to this radio show? I'm not sure why I keep forgetting about Haunted Radio. I'm definitely adding it to my weekly list of haunt podcasts! Go check it out and tell me what you think?
If you have any more podcasts or radio shows you listen to, add a comment below and share your info with other scary people like you!
If you would like to receive a free e-book and some secret information I have planned for my subscribers, then click here and you'll be signed up for a FREE Membership to my Scare Club. Have a Happy Halloween and remember to have fun in the process.