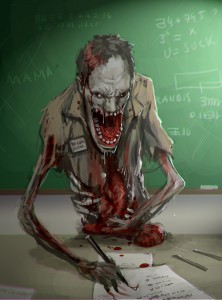 In Episode 17 we talk with 5 Haunt Vendors from the Transworld 2012  Halloween & Haunt Show about:
How to Sell Your Tickets Online Without Start Up Costs
What is the Real Difference Between Fog Liquids
New Products for Your Home and Your Haunt 
Where to Find Efficient & Reliable Printing
An Easier Way to Control Your Props Without Programming
We also introduce a NEW Haunt Project that is trying to grow wings and fly; but will need your help to get it off the ground. If you use any type of animatronic & prop controller, you'll want to check this new company out!
Listen to Episode 17 of HaunTopic Radio by clicking the play button below:
Podcast: Play in new window | Download (Duration: 24:34 — 28.1MB)
Here are the websites to the Product Creators we highlight in the show:
Ticket Leap: Set up an account, sell your tickets online, & get more customers now! Ticket Leap has been a trusted brand with Haunted Attractions for years & now it is easier than ever to start your ticketing with no start-up cost! (If you use this link then we will receive a small commission for each new account we help get started.)
HauntBox on Kickstarter: Support this project on Kickstarter! The Hauntbox is a prop controller and automation machine that is browser-configured, open source and Arduino-compatible. It's cool because you can automate inputs and outputs with no programming.
Master Fog: Master Fog simply brings you the finest in theatrical effects fluids. They specialize in a wide variety of fog and haze fluids all at a reasonable price. Made in the USA.
Skeletons & More: Items such as skeletons, masks, props and custom made props. They specialize in creating our own unique custom designed skeleton and bone props; such as skeleton chandeliers and skull wall sconces.
Jak Prints: Specializes in custom full-color offset printing, apparel printing, and sticker production. Their state-of-the-art equipment and an expert staff with over 25 years of collective experience in the printing industry allows them to offer the highest quality products and best service anywhere while still offering the industry's most competitive prices.
Fright Catalog: Online Halloween store since 2000 that caters to the Home Haunter & Halloween Fans. If you can't find it anywhere else- check here!
The winners of this month's contest are:
James Schuppe- Fright Times Magazine
Matthew Hampel- Fright Times Magazine
Dana Abbitt- Prelude to a Nightmare (Dark Ride) CD
Image donated by http://epitome.wikidot.com/chocozombie
Who are Your Favorite Suppliers, Makers, & Vendors of Halloween/Haunt Products?