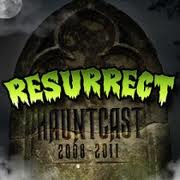 In Episode 3 of haunTopic Radio, we talk shop with Chris Baker and the movement of 'Resurrecting Hauntcast'. His podcast/radio show all about Halloween, Horror, and Haunting. Hauntcast was buried by Chris a few months ago and has been unearthed by the loyal fans and long time supporters. There has been so much support and contributions from everyone in the Haunt Community that Chris has decided to give Hauntcast one last chance.
What can you do?
Listen to this interview with Chris Baker. Go to Hauntcast and subscribe to a full year of episodes. You have until March 8, 2012 to help resurrect Hauntcast. Chris needs 250 subscribers before this date; he is close to reaching his goal and still needs your help.
Podcast: Play in new window | Download (Duration: 36:08 — 41.4MB)

What will you get?
12 episodes of Hauntcast (advertisement free)
12 episodes of Shocktail Hour. Chris and Johnny Thunder cover the world of Horror Entertainment for one hour.
A chance to get in on a raffle to win $1,000's in prizes; the quicker you sign up the better your odds in winning the Grand Prize!
Monthly information and all the segments that all the Haunters couldn't live without.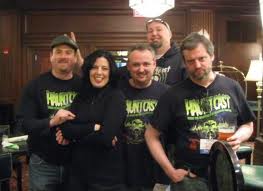 If you like our interview, please leave a comment below and share this with your friends. Thank You for listening.