Podcast: Play in new window | Download (Duration: 53:23 — 73.3MB)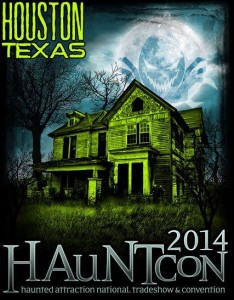 HAuNTcon, The Haunted Attraction National Tradeshow and Convention, will be held in Houston, TX on January 23-28 and has teamed up with the Halloween & Expo Show for 2014! That means more Haunted House Tours, an Interactive Trade Show for Haunters, a weekend full of Education to make your Haunted Attraction successful, an over-the-top Costume Ball, a Garage Sale full of cheap items for your next show, and a chance to meet new friends and connect with those you have haven't seen in awhile.
We get Leonard Pickel (the HAuNTcon mastermind) on the mic to give you the inside scoop on what HAuNTcon has to offer for 2014 so you can plan your schedule before you get there. This year HAuNTcon has teamed up with the Halloween and Party Expo, the first and LARGEST international show for the Halloween, Party, and Costume Industries; which should bring in new customers and products to the Haunt Industry.
Check out this Current List of Education Sessions, Classes, and Demos at HAuNTcon 2014  (More Classes Will be Added!)
Topic
Presenter
Taking the Fright out of Writing a Haunted Business Plan
Joyce McLean
Fire Codes for Haunted Attractions
Fire Marshall Todd Mitchel & Shannon Brinkley
Sponsorships and Partnership Programs
Julie Dion
Media Buying How-to
Julie Dion
Advertising Using Facebook Ads
Steve Colberg
Paid vs Volunteer; Operating an Attraction with a Hybrid Staff
Jim Bugos
7 Ways to Profit in the $7 Billion Dollar Halloween Industry
Kimberly Stewart
How To Build A Creative Team
Chris & Jeff Davis and the crew of Davis Graveyard
Selling Sponsorships
D'Ann Dagan
Critical Components of a Haunted Attraction Website
Jeffrey Ward
Projected Ghost Effects
Chris & Jeff Davis and the crew of Davis Graveyard
Using Fog And Special Effects To Safely Affect Your Bottom Line
Chris Markgraf
Burns, Flesh Wounds, & Frozen Props! The Art of Detailing Dead Bodies
Maris Blanchard
Theming your Haunt!": Using Psychology to Dramatize Your
Theme and "Traumatize" Your Patrons!
Craig Caldwell
Advanced Haunted Attraction Floor Plan Design
Leonard Pickel
How Realistic Detailing Can Make Or Break Your Set
Chris & Jeff Davis
Prop Fabrication On A Budget
Russ Foster
Secrets of Queue Line Entertainment!
Matthew Martino
How to WIN on FaceOff! Panel
Roy Wooley & RJ Haddy
Application of Latex Prosthetics with Emphasis on Airbrushing to Achieve Desired Effect
Tom Devlin
The Art of Foam Carving
Chris & Jeff Davis and the crew of Davis Graveyard
Horror Face Painting at a Fast Pace!
Nick Wolfe
How To Create Effective, Detailed Zombies Cheap and in a Pinch
Dale Flink
Roy Wooley Demo
Roy Wooley
Dingy, Disgusting Walls for Your Haunt
Ettie Thompson
How To Properly And Effectively Light Your Attractions and Store Displays
Quan Gan
RJ Haddy Demo
RJ Haddy
Original Music For Your Haunted Attraction
Chris Thomas
Prop in 3D! Simple carving techniques to make 3D
props for your haunt
Laura Neeley
Makeup! Tips, Tricks,& Techniques!
Hannah Moon
We also release the details for our January Giveaway where we will be giving away a one mask from Face Factory FX and one 2014 Haunted Halloween Calendar from Hector Turner. You must be a member of our Haunter's Toolbox Newsletter to qualify to win.
Topics & Links we discuss in this episode:
Win One Of These Prizes! Submit Your Entry Before Jan.24th. You Must Be a Member of The Haunter's Toolbox Newsletter. Sign Up Here. (All new members will be automatically entered.)

A hand crafted Clown latex mask from Face Factory FX

A 2014 Haunted Halloween Calendar (with Haunt Photos from all over the world!)

Sign Up Here (FREE) If You Are Not Currently a Haunter's Toolbox Member.