Podcast: Play in new window | Download (Duration: 37:02 — 50.8MB)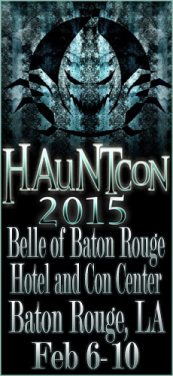 It's that time again.
Time for Halloween trade shows, Haunted House Conventions, Haunted House Tours, Meet-ups, and lots of parties!
Here to start the beginning of Haunt conventions and shows is HAuNTcon: Haunted Attraction National Trade Show and Convention in Baton Rouge, Louisiana on Feb.6 through Feb.10. We will have more coverage for you on more shows throughout the year so make sure you get on our email list to stay informed. Subscribe for free here.
What is HAuNTcon?
HAuNTcon is an acronym for the Haunted Attraction National Tradeshow and Conference, an expo and convention "Designed by Haunters, for Haunters" of every age and level of experience. HAuNTcon brings people who love Haunted Houses, Halloween and scaring people together for a fun-filled four days and nights Haunt Tours, Education, Tradeshow and Networking, rounded out by a Haunted Garage Sale and the amazing annual Costume Ball.
In this podcast I have a conversation with Leonard Pickel, owner of HAuNTcon, about all the cool happenings the show has to offer in 2015. The Haunt Tours of Necropolis 13, The 13th Gate, Rise Haunted House, and The Mortuary. And the awesome lineup of training for haunters.
The Garage of Evil will also be offering some workshops and training as Steve has teamed up with HAuNTcon this year to expand the training available to more Haunters that are eager to learn.
USE DISCOUNT CODE: VOODOO10 and receive 10% off selected tickets to HAuNTcon 2015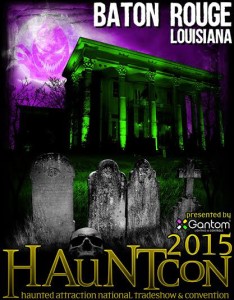 Overall, HAuNTcon 2015 has lined up some great Haunt Tours, educational tracks, and entertainment for Baton Rouge this year. Plus, New Orleans is only a short drive away! The room are only $99 bucks and just think about all the new friends you'll meet.
Links about HAuNTcon 2015:
Other Haunt Tradeshows & Conventions in 2015:
Haunt X | April 30-May 3 | Reno, NV
Thanks to Sam Haynes for donating his Haunt/Halloween Music this month.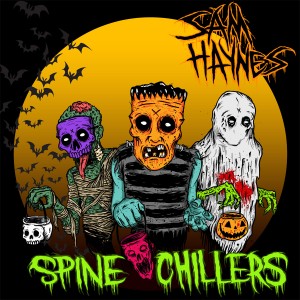 If you want to sponsor the show for a month contact us here.
The winners of a digital download of Sam Haynes Spine Chillers are
Gil Lovato
Mike Johnson
Robert James
Miles Woods
Gregory Wallace
If you didn't win…. you're in luck! We are giving away 5 MORE CD DOWNLOADS.
Make sure you are a member of The Haunter's Toolbox (our free email newsletter).
Reply to the last email you received from us with 'CONTEST' before Jan.25th, 2015
We'll Scare Ya' Next Time!!