Podcast: Play in new window | Download (Duration: 35:13 — 40.3MB)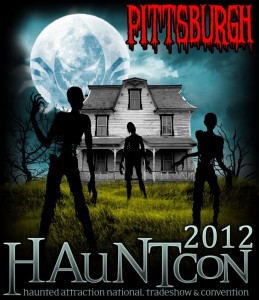 In Episode 8 of HaunTopic Radio we get a behind-the-scenes interview about HAuNTcon with the "Haunt Godfather" and Owner Leonard Pickel. Leonard is the co-founder of the Haunted Attraction Magazine, Consultant at Hauntrepreneurs.com, and a list of achievements that I couldn't fit on this page. Come on…he's been around the Haunt Industry for over 35 years! But we'll have more on Leonard in another episode, we had to cut it in half. The next episode with Leonard Pickel will include his insights on Building a Haunt and Things to Know Before You Get Into the Haunt Industry. So Subscribe to The Haunter's Toolbox to Get The Next Episode Straight to Your Inbox.
HAuNTcon will be at the Monroeville Convention Center in Monroeville, Pennsylvania on May 3th through May 7th. Visit over 20 Haunted Houses and get behind-the-scenes tours. Go to the Tradeshow and buy something. Dance in your favorite scary costume at the Costume party. Learn from the hours of education included with your admission.
Attending HAuNTcon or any convention always provides plenty of value for the price of going. Think of these conventions as investments. The money you pay for the adventure to get there. The cost to get behind the velvet curtain and the comfortable hotel room. Food, drink, and entertainment with your haunt buddies. The props and accessories you'll want to buy at the garage sales and endless vendor booths. Visiting all of the those Haunts behind-the-scenes and actually taking your time to walk through and take pictures. The education. The new relationships.
An investment.
FIND OUT MORE ABOUT HAuNTcon HERE:
HAuNTcon Website: Buy Tickets and Get On the Mailing List
HAuNTcon Videos: Over 90 Videos of HAuNTcon Goodness