Podcast: Play in new window | Download (Duration: 1:20:47 — 111.0MB)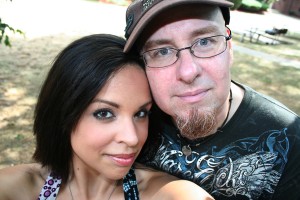 Haunted Attraction Reviews are often hard to believe or difficult to trust. After you listen to our interview with Oni Hartstein and James Harknell from Onezumiverse.com, you might just change your mind. James and Oni have been reviewing Haunted Attractions since 2008 and try to keep their opinion unbiased and more focused on the creativity of the event.
They definitely look for the scary ones but there is more to Haunted Attractions than just scary. With each Haunt they go through they reset their haunt radar and pay attention to different aspects of each one. Innovation, Back Stories, Set Design, Scare Acting, Queue Line Entertainment, and the Complete Experience are just a few things they focus on as they enter a Haunted House.
If you live on the East Coast and are looking for an honest review of your Haunted Attraction, then Oni and James want to hear from you!
Topics We Discuss in This Episode:
The different types of Haunted Attractions and how to experience each one.
How to make your Haunted House the best attraction that it can be.
Haunted Attractions that you need to visit that you may not know about.
How to scare a Haunted Attraction reviewer…and everyone else.
More about OneZumiVerse:
 The Winners of the October Giveaway from The Haunter's Toolbox are:
Dan Caulfield
Vince Parsons
Charlie McAllister