Podcast: Play in new window | Download (Duration: 50:37 — 57.9MB)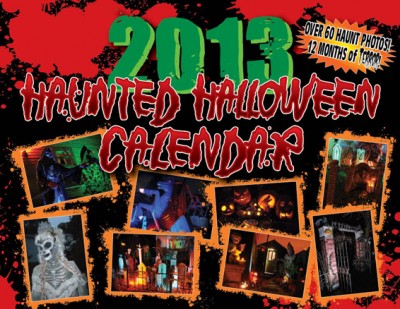 In Episode 33 of HaunTopic Radio we talk with Hector Turner about the Making of His 2013 Haunted Halloween Calendar, How You Can Get the Pictures Of Your Haunt in Next Year's Calendar, and Where You Can Buy a Calendar! We also get a little more history about Hector's Halloween experience and his Home Haunt Blackstone Cemetery.
We get some ideas from Hector on Creating Foam Tombstones & Wall Panels and more Home Haunting Tips!!
This calendar makes a great stocking stuffer, a nice gift for your Scare Actors or Staff, or just a great looking masterpiece to hang on your wall to stay scary all year long. Why spend money on those generic calendars when you can buy a Haunted Halloween Calendar from Hector Turner, a fellow Haunter/Halloween fanatic!
I'm very pleased to announce that the Haunt Calendar, now in its 5th year, will be expanding to include Haunt photos from all of CANADA, the UNITED STATES and INTERNATIONAL!! It's amazing how the calendar has grown with every year and this new direction is tremendously exciting in that I will be able to feature haunt photos from Halloween enthusiasts all over. Featuring OVER 60 HAUNT PHOTOS the calendar is both a year-round showcase and source of inspiration for Haunters everywhere.

Each calendar, printed in full color on top quality glossy paper, will be 8.5″ x 11″ when folded opening to 11″ x 17″ so there is plenty of space to write each day's appointments and there is even a Halloween countdown so we know exactly how many days it is until our favorite holiday rolls around again. Every month features lots of outstanding photos of the very best Haunts both large or small from around the globe – it's a great way to say thank you to all your hardworking scare-actors and also the perfect gift for the haunter on your list. –Hector Turner.com
MORE LINKS:
BUY A HAUNTED HALLOWEEN CALENDAR
WIN A FREE 2013 HAUNTED HALLOWEEN CALENDAR BY CLICKING HERE.