Podcast: Play in new window | Download (Duration: 43:15 — 59.4MB)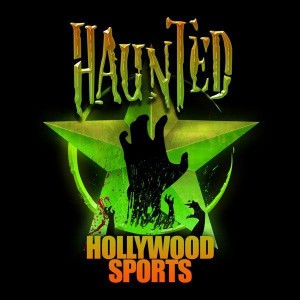 With 23 Acres of Terror and the Official Home of the Original Zombie Kill House…..Haunted Hollywood Sports is a Halloween event in Southern California based at Hollywood Sports Park in the city of Bellflower. With 2 scare-zones, 3 walk-through mazes, and 3 interactive Kill Houses, an 18 and over Club, Shooting Range, and Group E-Photo Booth; HHS brings in a new level of terror for Halloween 2013.
If you are looking for a complete interactive adrenaline packed experience and a chance to shoot zombies, you won't want to miss the scares at Haunted Hollywood Sports!
In this episode of HaunTopic Radio, we chat with our West Coast connection Mario Garit about his experience at the Haunted Hollywood Sports Complex and just how awesome the staff & crew treated him on his zombie mission. With elaborate Hollywood sets (most from the 1999 film The Haunting), a well-trained zombie horde, and a creepy atmosphere….this is one event that you must check out! For an extensive article and review, read this from our friends at Theme Park Adventure: Haunted Hollywood Sports Rises From the Grave
More About Haunted Hollywood Sports:
More About Mario Garit:
Haunted House Makers Website
Enter before October 24th to win one of these cool t-shirts from Haunt Life.com
To register, sign up for our FREE Membership The Haunter's Toolbox.