Podcast: Play in new window | Download (Duration: 32:00 — 36.6MB)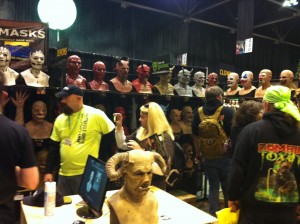 Where do you buy your supplies for your Haunted House, Home Haunt, or Halloween Display?
In this episode of HaunTopic Radio we asked you where your favorite places were to purchase masks, make-up, props, animatronic parts, sound effects, decorations, and general haunted house supplies. And YOU delivered!
Keep in mind these questions were answered by a variety of different haunters. Pro Haunters, Home Haunters, and Beginner Halloween Enthusiasts. Answers vary from places like Scare Factory to Picking Up Materials Off the Curb! There are 1,000's of places to acquire haunt supplies but these are the ones hand picked by you. Check out the list below and see if your favorite store is listed.
We also introduce a new segment called The Haunter's Toolbox hosted by a fellow HaunTopic crew member- Matthew Hampel. In this ongoing segment Matthew will cover all scary things we find on the web. Cool haunt products, Haunter YouTube channels, Halloween information websites, and other valuable places online to get your haunt on!
Here is the list of the best places to find Halloween & Haunt supplies (picked by you):
Top Pick- Fright Props
Monster Guts
eBay/Amazon
Home Depot/Lowe's/Find it on the curb (build your own)
Spirit Halloween/Halloween Express
Haunted Props
Haunted House Creations
Distortions
Halloween Asylum
Froggy's Fog
Gore Galore
Midnight Syndicate/Audio Zombie (Audio)
Creepy Collections
Master Fog
Scare Factory
Darklight Lighting
Creature Corps
Spooky Dimensions
Poison Props
Nethercraft
Shop of Horrors
Haunted House Makers
Fright Ideas
Haunting FX
Nightmare Factory
Bloody Mary (make up)
Creeped Out
Frightmasters
Party Galaxy/Buy Costumes
Oriental Trading Company
Did your favorite place make the list? Let us know in the comments below!
The winner of the 1031 Horror Comic "Halls of Bedlam" is: Christie Watkins

Get Your Own Personalized Horror Comic at 1031 Comics!

The 3 prizes for the month of July are:

1) A personalized comic cover of your Haunt or Character by John O'Brien (the artist above)

2) A personalized color illustration caricature of you as your favorite monster. (also by John O'Brien)

3) A hand-crafted scarecrow mask by John Dean of TerroRealm in Rutland, VT.

If you want a chance to win next time make sure you're a member of The Haunter's Toolbox Newsletter!

Click Here to become a member of The Haunter's Toolbox for FREE