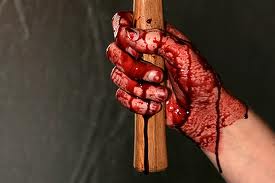 It's been busy at Scary Visions for the last few weeks. I finally produced some of my videos and pictures from this Halloween and entered the Home Haunter's Association Contest. The deadline is November 20th, so you better get busy if you're going to enter. There are many good Haunts in there! If you don't want to register, just check out the page and watch all the videos that have been added. You will get tons of ideas for next year!
Here is my creation this year. But first let me say a few things about my Haunt.
Dr.Phobia is built with 90% Recycled Material. I found all the privacy fence in the trash. The chain link was given to me. I recycle the pallets every year. I reuse the black plastic. If I don't have to buy it…I won't.
Most props were made from chicken wire, spray foam, hot glue, pillow stuffing, and float noodles. I have bought props but I try to spend very little. Yes, I'm frugal.
I get a lot of items from the trash and garage sales. Like the wheelchair, the hospital dividers, the PVC, the dog house, the old tree that fell down in my neighbor's yard.
I probably haven't spent over $300 in the entire Haunt. Bought some burlap, screws, plastic was donated, some props, a few pieces of hardware, and that's about it.
I know many Haunters are the same way. We use our Creativity to get us by. We don't have the funds so we use what we have. Maybe one day I'll get to buy one of those 15′ monsters from Scare Factory. Anyway, here is my video. And stay tuned for more posts because I have some interesting interviews on the way…
If you want to receive extra information and new content subscribe to my FREE Weekly Newsletter Here.