Podcast: Play in new window | Download (Duration: 1:02:24 — 85.7MB)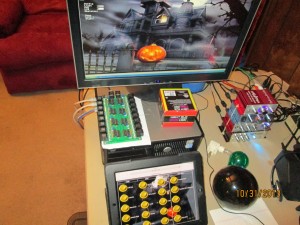 Have you ever tried to make a prop controller for your Halloween props? Looking for free computer software to integrate with your existing prop controllers? Have you ever thought about tapping into the Christmas Community for advice on programming your mini lights or animatronics? Lee Alder meets us in the dungeon to walk us through some basic prop controller techniques, how to make your own animatronic triggers, and using computer software to operate all of your animated props…much from the Christmas community. Lee likes Christmas but is also a strong supporter of Halloween decorating and scaring the trick-or-treaters at his home each October.
Beware!! This podcast episode gets a bit technical and refers to Christmas many times but is stuffed full of helpful advice for those searching for a great starting place for building your own animatronic operating system. Us Halloweenies can learn much about lighting and automation from these Christmas guys. If you find yourself getting lost in the audio check out the links below for some visual aids and video to help you build your own.
Lee recommends using Vixen 2 as a free software program for automating your lights/props and lists various types of controllers to try. He even goes into detail on how to make a prop controller for just a few dollars. Vixen is software for do-it-yourself lighting automation displays. Most popular at Christmas, computer-controlled displays are becoming increasingly popular for other holidays (such as Halloween) as well. With a PC and some hardware, anyone can have a professional-looking lighting display synchronized to music.
So if you want to get into building your own prop controllers, playing with automation software, or want to start animating your lights and props then listen to this episode and check out the links below. This will help you get started…
Haunt Topics in this episode:
This video is just an example of what is possible with automation software. You can design a elaborate light display like this or use it to control props, lights, foggers, music, etc.
If you enjoyed this article join The Haunter's Toolbox for FREE