Podcast: Play in new window | Download (Duration: 44:32 — 51.0MB)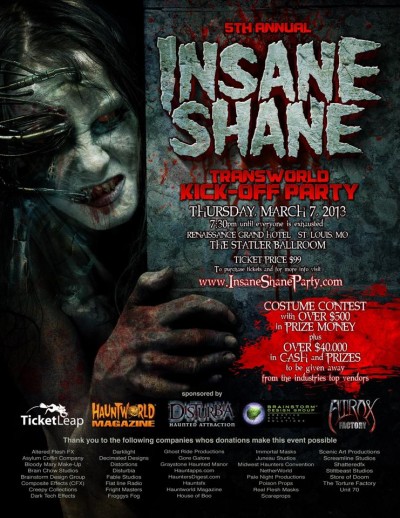 In Episode 36 we get 'Insane' Shane Dabbs, the man behind the Disturbia Haunted House & The Insane Shane Pre-Transworld Party, to open up a bit about a few different topics.  Here are a few topics we discuss with Shane in this show:
How To Use A Token System to Make Your Attendees Wait Less
What To Expect At the Insane Shane Party at Transworld Halloween & Haunt Show 2013
How Shane Really Feels About Home Haunters
The Schedule for the Transworld Halloween & Haunt Show
If you are going to the Transworld Halloween & Haunt 2013 let me know and we may be able to meet up. I would like to see the faces of those who are supporting HaunTopic because you are the ones who make me & Darryl return each time. Thank You for all of your comments, compliments, & support all year long! Just use the comment tab and send me an email if you want to meet up this year.
The Winners for the 2 Haunted Halloween Calendars from Hector Turner.com are:
 Steve Reeves
Patrick Ward
We are also holding our first online seminar on February 6th at 9:00 pm CST with Leonard Pickel. Leonard will be teaching "THE TRUTH ABOUT OWNING YOUR OWN HAUNTED HOUSE" which will help open your eyes to the goals you really want to focus on before you even start a Haunted Attraction. Are you really made for the business of Haunting? What is it going to take to be successful? With the years of experience Leonard Pickel has in building, designing, operating, and consulting within the Haunt Industry you are guaranteed to learn something new. This online seminar can be found by clicking here.
Stay tuned for more interviews from our guests from the upcoming Transworld Halloween & Haunt Show on February 26th!