"The curious queue line wraps around the lobby and out the door. I feel the vibrations from the deep bass in the music but can't quite understand it. Zombies and SteamPunk Creatures weave through the crowd. I try to push the excitement deep down so no one senses that I'm a newbie at this. As the line gets shorter, I feel the sweat breaking through my skin as it signals me to remain calm. The last time I felt this way was at the entrance to my first Haunted House. But this felt different. This was the Insane Shane Party…"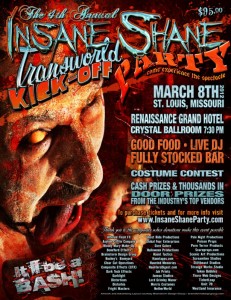 In Episode 3 of HaunTopic Radio we interview Sue Gray from the Insane Shane Party and ask her what you can expect this year at the party. More vendors donating over $35,000 in prizes for you to win. A $300 grand prize for the best costume. And enough music, food, and friends to keep you engaged all night!
I attended last year and had an awesome time! Made some new friends and won 5 Haunted Portraits and an Oblivion Mask. It was an experience that I still carry around with me. Where else can you party with all of the Kings & Queens of Scary and still feel that you are in the middle of a Haunted Attraction. Dancing with creatures of the night, winning cool prizes, and actually meeting those friends that I only get to see once a year.
Click on the play button to hear our interview with Sue Gray and a little extra information pertaining to the Transworld Halloween and Haunt Show. If you enjoy our interview, please leave a comment below or share this with your friends.
Podcast: Play in new window | Download (Duration: 26:44 — 30.6MB)

MORE LINKS TO CHECK OUT!!
Insane Shane Website
FREE Things To Do At Transworld
Interview With Jen Braverman: Why is Transworld Charging $50?
The Haunter's Toolbox: My Weekly Newsletter