Podcast: Play in new window | Download (Duration: 31:48 — 36.4MB)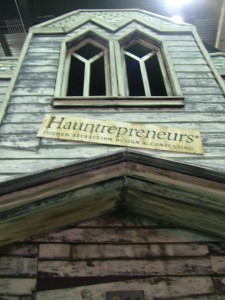 In Episode 19 of HaunTopic Radio we get the Haunt Godfather Leonard Pickel back on the mic where we discuss many of the obstacles that Haunters face in today's world of constant challenge. How to Save Money While Building Your Haunt, Why Stories are Important to the Success of Your Attraction, & How to Beat the Conga Line Effect By Changing Your Design are just a few of the topics we cover in this episode.
You also get some get background on how he got his start as a Haunter and some of the lessons he learned along the way. Just save yourself a few years of learning and push play on that little audio player above. Information you can't afford to miss….
I was going to try to summarize Leonard's experience in a paragraph but there is no way to squeeze all of his accomplishments in just a few sentences. I decided to make a list instead. Here is just a few things he has done in the Haunt Industry:
Produced his first commercial haunted house in 1976 as a fundraiser for the dormitory he was living in.
In 1982 he volunteered his horror production expertise to the local March of Dimes Haunted House and became chairman of the charity Halloween Event a year later.
In 1986 Leonard formed the basis for what later became known as the "Pickel Theory of Haunted Houses," a high startle, low gore, high throughput, & low theatrics approach to dark amusements.
He applied his October seasonal experience toward a summer seasonal haunted house in 1993, with Mayhem Manor® in Myrtle Beach, South Carolina which lasted 7 years.
In 1994, Co-founder & Editor in Chief of  Haunted Attraction Magazine, the premier publication for the dark amusement industry.
In 1997, Leonard took on the task of forming the Haunted Industry's first trade association, the International Association of Haunted Attractions (IAHA).
In 2000, Philip Morris of Morris Costumes in Charlotte, North Carolina, contracted Leonard  to facilitate the creation of a muli-element October seasonal Haunted Attraction.
In 2004, he launched the first national convention for the Haunted Attraction Industry. The Haunted Attraction National Tradeshow and Convention (HAuNTcon)
 In 2009, Leonard was awarded a Life Time Achievement award by the International Association of Haunted Attractions, (IAHA).
He has designed over 80 original and creative Haunted Attraction designs for major venues including Madison Square Garden, Universal Studios Florida, Six Flags, Kentucky Kingdom, SCREAMS Terror Park and the Kandy Halloween Party at the Playboy Mansion in Beverly Hills, CA.
Check out Leonard's Training Programs on
&
If you want to find out more about Leonard Pickel or contact him for more Haunt Consulting check out these links: