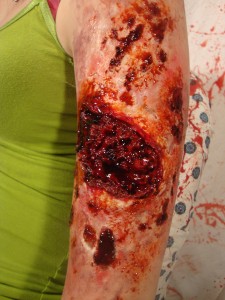 I have to give credit to Steve Siegelbaum of GutRot Effects for this content. He responded quickly to my facebook question and so I reward him with a 3 part series explaining his make-up skills, being efficient in the make-up room, and the tools you need to be a quality special effects artist and actor. He has demonstrated his awesome skills in movies like Abracadaver, Prayer To A Vengeful God, The Lost Triangle, and Josh and Lucas. He has worked with haunted attractions as an actor and special effects artist and has been a guest on a few television morning shows. If you're just starting out practicing your make-up techniques; you will still learn a lot from Steve. This is part 1 of my interview. Stay tuned for more or Subscribe to my FREE NEWSLETTER to get instant updates.
What is Gut Rot Effects and what is the vision behind your company?
GUTROT EFFECTS is a special effects company started in 2007  after many years of providing independent film and haunted attractions with the bloodiest and most realistic trauma fx I could come up within the most budget conscious ways ( basically with 0 budget). I just wanted to sling blood and freak people out. But I soon realized the possibilities as more people wanted my services. So I came up with GUTROT EFFECTS – Special FX design and application for Film, Television , and Haunted Attractions in a move to go from a hobbyist to a full time fx artist. Now I'm not some big time Hollywood FX artist but I get to do what I love and get paid for it . I get to work with the most wonderfully terrifying people in the industry today as well as up and coming directors for independent film. Creating everything from evisceration's and severed limbs to fresh kill zombies lurking behind hidden walls waiting to jump out and take a bite of ya!
And I'm just at the beginning of my career. I have a lot of work to do in order to get my vision of GUTROT EFFECTS out there to the masses.
What is that vision? What comes to me foremost is the creation of GUTROT products and applications. To grow, stay current, and to give the highest detail and quality that everyone can afford. Challenging myself to do bigger and more frightening projects. Getting a great crew together and building the GUTROT family in the hopes of spreading the joy of terror to all those that love horror as much as i do. I want to be accessible to everyone from the the million dollar production to the horror enthusiast that just needs a cool zombie bite. I want to show that with persistence, passion, and pure determination- that GUTROT EFFECTS is here to stay and will only continue to grow to provide fun bloody entertainment for all to enjoy.
What are the essential tools to have as a special effects professional or in any make-up room? The gotta have tools!
To start with, most special effects artists have their own kit. This is a must when entering this industry! You need to be prepared for anything…as an fx artist you will find your self delving into your own kit that contains the tools that an artist uses on a regular basis and is comfortable with…I always do . You may have that color that's just right for a gnarly bruise you're doing that isn't supplied or the place just ran out of . But if your just starting out- here is a good list to start with.
Many brushes in different sizes and shapes.
As many different colors of paint possible. The larger the collection of colors, the more shades, tones and color variances you can do. RMGs ( rubber mask grease) and AA paints ( alcohol activated / only 99 % works). 99% alcohol is a must, especially working with AA paints and RMG's, it thins and activates the paints I use, as well as disinfected and helps prevent cross contamination. Cleanliness and safety are key when working on many different people in one night.
Morticians wax (or nose and scar wax) in flesh and bone tones.
A good set of metal and wood sculpting tools for contouring and shaping wax and other applications.
Cotton balls , makeup wedges and applicators , Pros-aid ( a medical adhesive used to apply any type of application u can think of)
Adhesive removers, like isaptopyl myristrate which removes pros-aid adhesive. I get comments on how good peoples skin feels and looks no matter how much makeup they wear in a season because I take care of their skin. Good skin care products like Vitamin E or lotion will help with skin irritations. It's gonna happen, when you put a lot of stuff on your skin and you do not take care of your skin- you're gonna get irritation.
Scissors, a sharp knife, lots of tubing for running blood gags, baby powder ( for setting layers of applied makeup), and a hair dryer.
Always have some pre-made wounds and applications just in case. Prosthetic masks and wounds as well as pros-aid  to apply them.
Baby wipes or latex gloves to keep your hands clean.  However, they can get stuck to your work so I prefer to use hand disinfectant between applications.
Large quantities of blood – which can be bought but gets expensive, or you can make your own. As a makeup fx business I can make and supply attractions with my own brand of blood.
Liquid latex and latex pigments to dye the latex for various shades and thicknesses of blood. Liquid latex is, and will be, one of the most used materials in a haunted attraction for a long time to come , because it is so easy to work with and it's extremely versatile. (just remember 1% of people are allergic and you always need to test prior to application).
All sorts of latex paints to  mix with the liquid latex and create different colors and base tones for realism and versatility.  AA ( alcohol activated paints) which work with foam latex and silicone's.
That's just a fraction of what my kit has. As an fx artist you will find your kit just grows and grows. The more projects you work on- the more tricks and tools you will acquire as well. Now that's just what the artist him/herself will bring with them. When meeting with attraction owners I go over the storyline of the attraction, types of costumes and makeups they want; as well as exactly how many actors will be requiring the makeup.
Finally,  I create a list of materials needed based on the ideas we come up with for the various costumes and makeups.  It's up to the owners to supply all necessary materials pertaining to the haunts special effects makeup needs. Like large amounts of blood and liquid latex. You need to work closely with the owners and designers to come up with a clear plan of attack . Getting into an efficient nightly routine will not only help revenue and timing , but it will help artists fall into their groove in regards to their creativity and quality of the final makeups- which will only get better with every passing night…
…On another note: there are many things involved when getting the makeup area or room ready for show time. You need chairs , lighting , electric , and most of all- control of the environment- making sure the right applications are going on the right actor. All of this while applying makeup on one person while three others are drying and waiting for finishing….but we'll answer that next time….
Find Steve:
Linked In
Stay tuned for part 2 and part 3 from Gut Rot Effects where we'll cover How To Be Efficient In The Make-Up Room and more special effects techniques and advice. Subscribe to the Newsletter so you don't miss it!