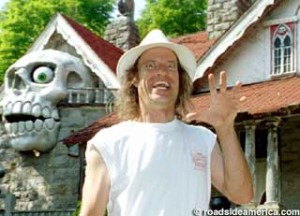 In Episode 21 of HaunTopic Radio we talk to Mark Cline, the man behind The Haunted Monster Museum & the professional sculptor of many large foam & fiberglass creatures. His masterpieces can be found in theme parks, haunted attractions, & in many popular locations all over the country. Everywhere Mark goes he leaves his thumbprint. His creations are so popular that he has been listed on Roadside America, interviewed by the Wall Street Journal, and waiting on an approval for a reality show.
Make sure to watch the slideshow below while you listen to this audio episode. It shows off many of Mark's awesome foam & fiberglass sculptures. If that doesn't satisfy you, then make sure to visit the links listed below. We found more articles & pictures from around the web. If you stick around on this show's audio interview, you might learn a few tricks for your next paper mache project.
LISTEN TO EPISODE 21 OF HAUNTOPIC RADIO HERE:
Podcast: Play in new window | Download (Duration: 48:04 — 55.0MB)
We also discuss the fire that devoured The Haunted Monster Museum in April and what the future holds for Mark. His plans have changed a bit but he still remains confident about where his journey is taking him. You might get some opportunities to learn from Mark on a more personal level in one of his classes.
DON'T FORGET ABOUT THE CONTEST: Listen. Remember the question. Submit your answer to contest@hauntopic.com. Win a prize. A FREE CD from Prelude to a Nightmare (Dark Ride) & 2 Issues of Fright Times Magazine.
[slideshow id=2]
 FIND MORE ABOUT MARK HERE: