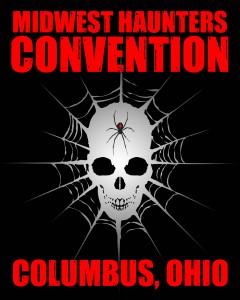 In Episode 12 of HaunTopic Radio, we sit down & discuss The Midwest Haunter's Convention with Barry & Kathy Schieferstein. If you have questions about prices, classes, tours, events, or stuff to do at night…then turn this one up.
Podcast: Play in new window | Download (Duration: 23:12 — 26.6MB)
The Midwest Haunters Convention is located in Columbus, OH on June 8-10 and is a weekend event planned for Haunted Attraction Producers, Actors, Makeup Artists, Technicians and Home Haunters. The MHC goal is to provide you with educational seminars and workshops with experienced presenters, a 75+ vendor tradeshow with the latest in haunt offerings, and a place to network with others in the industry during their fun social activities. If you are involved in a haunted house in any way then MHC is the place to be!
Don't forget to enter the contest. We are giving away a CD from Prelude to a Nightmare & another copy of Fright Times Magazine but you have to listen to Episode 11 to hear the rules. We'll announce the winners on the Episode we release on May 26. The DEADline is May 24.
GO HERE FOR MORE INFORMATION:
The Midwest Haunter's Convention Website: Sign-Up, Get Classes, Learn More…
Midwest Haunter's Facebook Page: Get Live Updates.
Kristy Noble's Saturday Class on Controllers : Using VSA and the Pololu Control Center from a Home-Haunters Perspective!
The Complete List of Classes at the MHC: Learn & Share Your Ideas With Others.