Podcast: Play in new window | Download (Duration: 56:41 — 77.8MB)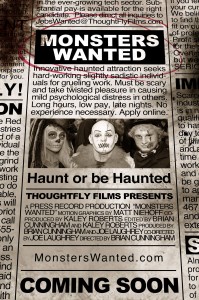 Monsters Wanted is the New Haunted Attraction Documentary from ThoughtFly Films. The movie follows Rich Teachout, an IT professional, as he quits his job and invests his life savings into opening a one-of-a-kind haunted attraction.  He and his partner Janel dedicate every moment, ounce of energy and dollar to making their "scream park" a reality. Along the way they have to deal with sabotage, civil war, and the crunch of time to achieve their goals. The resulting movie is a rare peek into a multi-million dollar industry known for its well-guarded secrets and self-proclaimed madness.
"We can't be more excited about how this project turned out," says co-director Joe Laughrey. "We knew starting out that the industry was interesting enough to support a feature, but we had no idea the level of emotional investment these haunted house owners have in their work.  This is really a great story for anyone who's taken a chance or followed a dream."
"We had over 200 hours of footage," says co-editor and co-producer Kaley Roberts. "The editing process was intimidating, but I'm glad we took the months of work we needed to find a story that people inside and outside the industry can really connect with."
In addition to following the Asylum Haunted Scream Park, "Monsters Wanted" also gives an insider's perspective on several different haunted houses and the industry as a whole.
"Going to the Transworld Haunt and Attraction Show was an eye-opening experience," says director Brian Cunningham. "Here you had thousands of haunters and vendors set up in one place, all working to try and make their attraction stand out from the others. It wasn't until then that I realized how big the industry was and how many people are involved in it. It's one of my favorite sequences."
The movie also features music by acclaimed indie rock bands Sick of Sarah and Viva Viva as well as Louisville locals OK Zombie and Two-Pump Chump.
"We needed music that could blend together all the different emotions the characters were feeling," says Cunningham. "We really found a great soundtrack to support the images on screen."
"It's a great mix of horror, comedy and real-life drama," says the film's co-director Joe Laughrey. "But at its core, 'Monsters Wanted' is about following a dream at all costs."
Monsters Wanted is scheduled for release on August 27, 2013 through Amazon, Google Play, iTunes, and Digital Download. Buy Monsters Wanted
"Monsters Wanted:" There's nothing more terrifying than following your dreams.
Find Out More About Monsters Wanted:
Win Prizes for the Month of August!! Submit Your Entry Before August 24th, 2013. Here is What YOU Can Win. You must be a member of our FREE Haunt Club the Haunter's Toolbox. (All new subscribers between now and the deadline will be automatically entered. All current members- check your email.) Sign Up Here.

1) A Scary Peeper Prop from HauntNav.com

2) A Prop Package From StabbingHouse