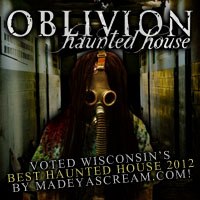 Podcast: Play in new window | Download (Duration: 50:13 — 57.5MB)
In Episode 23 of HaunTopic Radio we chat with Erick Gyrion & Dan Doble from the Oblivion Haunted House and get some helpful advice for operating  your Haunt & a small peek into their lives as Haunters. After a few laughs & stories of their journey, we dive deep into a few topics any Haunter would be interested in, such as:
HOW TO GET KEEP VOLUNTEERS/EMPLOYEES COMING BACK FOR MORE
WHY HAVING A CREATIVE PLAN IS THE BEST WAY TO SET UP YOUR HAUNT
IS IT NECESSARY TO REBUILD YOUR HAUNT EACH YEAR & HOW TO DO IT
HOW TO USE SOCIAL MEDIA & THE INTERNET TO INCREASE YOUR ATTENDANCE

 The Oblivion Haunted House is located in Menasha, Wisconsin and is open for the 2012 Season. Want to volunteer? I'm sure they have a few more spots…
FIND MORE ABOUT ERICK & DAN HERE:
Oblivion on Facebook: Go 'Like' their page.
Halloween Room Productions: Their main website for all their Haunting Ventures.
Oblivion Haunted House: Where they put their creative energy- Haunted Attraction in Wisconsin
Haunt Guys on YouTube: Behind-the-Scenes of building their Haunt & their lives.
WHAT DO YOU THINK OF THE OBLIVION HAUNTED HOUSE? PLEASE LEAVE YOUR COMMENTS BELOW.