Podcast: Play in new window | Download (Duration: 54:11 — 62.0MB)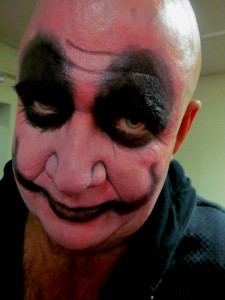 In Episode 27 we put the Unknown Scare Actor in a small closet with lots of spiders and make him tell us all of his Scare Acting Secrets. Well…kinda. Jim Millspaugh (the Unknown Scare Actor) has acted most of his life, scares the body fluids out of most guests at The Dent School House, & trains other Scare Actors to utilize his techniques. He uses the tagline "Everyone is Afraid of Something" in his segment on The Big Scary Show as he shares different Phobias each episode. And after doing a bit of research on Phobias, it seems there really is a Phobia for everything.
Using Phobias & Fears in Scare Acting is more difficult to do than just reading about them. If you are an actor in a Haunted Event & really want to work the crowd, you may want to check out the F.E.A.R Equation Jim teaches. We get some insights on this and on his techniques for making others tremble in fear.
So click on the play button, enjoy our interview, win a prize, & let us know how you are liking the podcast.
FIND MORE OF JIM MILLSPAUGH HERE:
THE UNKNOWN SCARE ACTOR SITE
THANKS TO OUR SPONSORS WHO ARE GIVING AWAY THESE PRIZES THIS MONTH:
SPOOKY SOUND EXPERIENCE: 3 FULL DOWNLOADS OF HALLOWEEN & AMBIENT SOUND
STADIUM OF SCREAMS: 4 TICKETS TO THE NEWARK, NEW JERSEY HAUNTED BASEBALL STADIUM
COMPOSITE EFFECTS: $50 GIFT CARD TO CFX EFFECTS TO USE ON ANYTHING ON THEIR WEBSITE
HECTOR TURNER: 2013 HAUNTED HALLOWEEN CALENDAR
HERE ARE THE RULES TO THE CONTEST:
LISTEN TO THIS EPISODE OF HAUNTOPIC RADIO & FOR OUR SECRET QUESTION
ANSWER THE QUESTION AND SEND IT TO contest@hauntopic.com
NEW! WE WILL LET THE 1ST PLACE WINNER CHOOSE ONE PRIZE FIRST. THEN GO FROM THERE. THERE ARE A TOTAL OF 6 PRIZES THIS TIME! 6 WINNERS!