Podcast: Play in new window | Download (Duration: 45:06 — 61.9MB)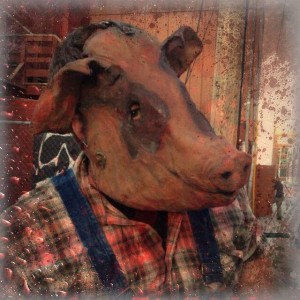 In this episode of HaunTopic Radio, we kidnap our new HaunTopic Crew Member Rich Christensen for an hour and try to steal all of his Haunting secrets. We talk Home Haunting on a budget, Scare Acting Advice, and Growing Up Halloween.
Rich has been a Halloween Enthusiast since he was younger and today he prides himself with finding cheap or free materials to build his new Halloween experiments. He uses his talent in each of our Haunter's Toolbox segments with cheap and easy audio prop tutorials. He started Omaha Metro Haunters to find like minded Haunters in his local area and to help spark ideas for the Halloween season. Rich is also a scare actor for the Mystery Manor Haunted Theatre in Omaha, Nebraska which has been in operation for 30 years!
Also, make sure to listen to the middle of the podcast where Brian does a Haunter's Toolbox segment on The 5 Types of Scare Actors. Some useful tips and tricks for scare acting for your next Halloween season!
The Back Story of The Mystery Manor
Built in 1887, this once magnificent dwelling was the home of William and Greta Hall. The meeting place of the elite of Omaha, it was dubbed Hall Manor by those who frequented its confines. The happy times ended on October 23, 1929 when the stock market crashed. By the end of the day William Hall, his vast fortune gone, was a broken man… and quite insane!
Late that night, in a blinding rage of madness, he took his ax from its place in the shed and attacked his dear Greta, chopping her body into pieces until his frenzy had abated. The next morning, realizing with horror what he had done, he carefully placed his wife's remains in a shallow grave in the front yard of her beloved Manor.
A week later, Greta's brother John Martin avenged his sister's brutal murder by hacking up his former brother-in-law with the same ax. He reunited the couple in that shallow grave. The next night, Halloween, John Martin's body was found at the grave sight with the ax imbedded in his skull.
Some believe the ghost of William Hall killed John Martin. To this day, the murder of John Martin remains a mystery – hence the name "Mystery Manor". It has been widely rumored that the ghost of William Hall still wanders these halls every October waiting for strangers to come so that he might resume his terrible vengeance upon any soul who enters his home.
Find Out More About the Mystery Manor & Rich Christensen:
Win One Of These Prizes! Submit Your Entry Before Jan.24th. You Must Be a Member of The Haunter's Toolbox Newsletter. Sign Up Here. (All new members will be automatically entered.)

A hand crafted Clown latex mask from Face Factory FX

A 2014 Haunted Halloween Calendar (with Haunt Photos from all over the world!)

Sign Up Here (FREE) If You Are Not Currently a Haunter's Toolbox Member.