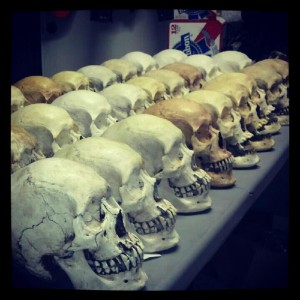 In Episode 15 of HaunTopic Radio we chat with Kyle Snow, Owner & "Head" Skull Maker at The Skull Shoppe. He explains how he molds & makes 100's of skulls, the inspiration behind the creative process, & what it really takes to operate a successful vendor business. If you thought every skull was made the same, you might want to take another look. These skulls are about as real as it gets. Molded from Real Human Skulls these craniums will put that creepy touch to your haunt, your next prop, or just sitting on your desk. Listen to our interview with Kyle here:
Podcast: Play in new window | Download (Duration: 50:32 — 57.8MB)
Here are what a few Haunters are saying:
"Just wanted to let you guys know I got my skull today and its completely awesome!!
Thanks again"
"The absolute best product you will find at any price. Skull Shoppe can't be beat, fantastic work."
"Love the skull we got at the WCHC, it was the one we had won from Hauntcast!"
This is also our first podcast of the month so our contest question will be in this episode. Submit your answer to contest@hauntopic.com for a chance to win a Dark Ride CD from Prelude to a Nightmare or (2) issues of Fright Times Magazine. You will have until June 26th to enter. All winners will be announced on the July 6th episode.
Contact The Skull Shoppe:
Skull Shoppe Facebook Page
How Do You Make Your Skulls & Do You Own a Skull Shoppe Skull? Please Leave a Comment Below…