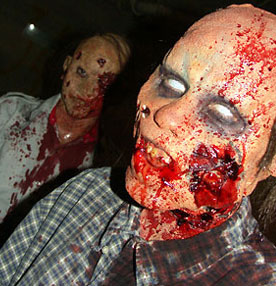 On my quest to find useful special effects resources for haunTopic and this blog, I uncovered a few websites and YouTube channels that you must check out if you're looking for the latest in techniques, materials, or guidance. These sites offer a little bit of everything in the special effects area.
BITY Mold Supply: Not only are these guys suppliers of awesome molding supplies and special effects materials; they provide some informative videos to help you with your next molding or special effects project.
Backyard FX: An indy film website that focuses on low-budget effects but also has some Halloween related episodes that us Haunters can apply to our haunts. Click on this link to watch a video on building a corpse out of cheap materials and search their database for 'Halloween' and you'll see what I mean.
StiltBeast Studios: I just added this guy to haunTopic because his videos are straight-to-the-point and very useful. His latest video is "How To Make A Human Pelt"…..out of a trash bag….
FX Warehouse: Another online supplier of special effects materials; but this link takes you directly to their FREE online tutorials. Applying latex appliances, lifecasting, making fake burns, and much more…
Smooth-On: A industry leader in rubber and silicone products, they also have a huge resource page for special effects and molding professionals. You'll be here for hours!
If you enjoy articles like this, please comment on my posts and let me know what you are really interested in me writing about. Interviews with Haunt Professionals, useful links to help with your haunt, or some good ideas to get your creative juices flowing? I will still be writing here but I have also divided my attention with haunTopic. Both sites will work in unison to supply you with all the information you need. I will try to maintain my once a week schedule because I enjoy helping you succeed in all your Scary ventures. Until next time…