Podcast: Play in new window | Download (Duration: 47:48 — 54.7MB)
In Episode 37 of HaunTopic Radio we interview Mike 'Tattoo' Krausert from Cutting Edge Scenic Design and the Director of the famous Haunted Attraction Spooky World about the Interactive Haunted House that his team builds every year at the Transworld Halloween & Haunt Show. His team is known for their quick set up times & flexibility when working with highly detailed mobile haunts. We also discuss his experience at Spooky World and how he got started designing and building Haunted Attraction all over the U.S. We also find out how he really got his nickname "Tattoo"! It's not what you think…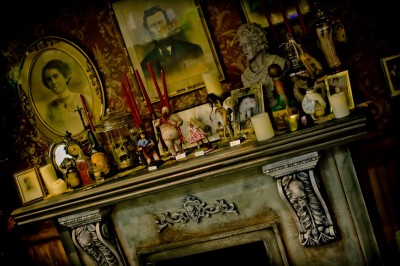 The Interactive Haunted House Showcase provides buyers with the opportunity to experience vendor products first-hand in a themed environment.
Working with show vendors, Mike "Tattoo" Krausert and the Cutting Edge Scenic Design creative team have developed 6 different scenes which are designed to highlight the versatility and impact of exhibitor products and services that can be found for purchase on the show floor.
There's no better way for buyers to fully grasp the impact of exhibitors' products than by experiencing them in an integrated environment as they are intended to be used.
New for 2013! We will be incorporating actors into these life like scenes!- HAASHOW.com
HERE ARE SOME OF THE TOPICS WE TALK ABOUT:
How to get started as a Haunt Designer in the Haunt Industry.
Behind the scenes of Spooky World & Nightmare New England.
What is the mission behind the Interactive Haunt at Transworld?
Where will Mike be at Transworld (just in case you wanna stalk him).
FIND MORE ABOUT MIKE:
SPOOKY WORLD HAUNTED ATTRACTION
THE INTERACTIVE HAUNT AT TRANSWORLD (VIDEO)
IF YOU LIKE THIS, PLEASE SHARE WITH YOUR FRIENDS OR LEAVE A COMMENT BELOW.