Podcast: Play in new window | Download (Duration: 51:08 — 58.5MB)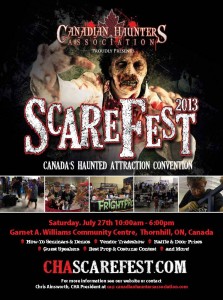 We get Chris Ainsworth from Scarefest: Canada's Haunted Attraction Convention to spend an hour with us and we get the inside scoop on this one day convention for haunters. If you live in the U.S. this convention may be closer than you think. It is in Ontario which is just a short drive away from some of the northern states and it would make an awesome road trip. So if you missed out on some of the other conventions and live around the northern border then this would be a great way to get your haunt convention fix!
ScareFest is a one of a kind show that caters to owners and operators of professional Haunted Houses, actors, home haunters, artists, and Halloween enthusiasts in the Canadian Haunt Industry. -CHASCAREFEST.COM
Chris is also a Home Haunter who operates Thornhill Haunted House at his residence. How does Chris juggle running a Haunted House Convention, setting up his Home Haunt, and manage a full time job? Many of us Haunters have encountered this situation many times. We discover what keeps his haunt fire burning all year long.
If you plan on going to this convention, make sure to listen to this episode. Chris is giving all HaunTopic Radio U.S. listeners a special rate for just showing up! And if you want your attraction or home haunt listed for FREE on the Canadian Haunter's Association website (U.S. or Canada) then check out the links below.
Here are the topics we cover in this episode:
ScareFest: Canada's Haunted Attraction Convention
The Canadian Haunter's Association: All things haunted in Canada
Thornhill Haunted House: Home Haunt by Chris Ainsworth
Join the Midwest Haunters Make-n-Take in Illinois
To win a Horror Comic from 1031 Comics "Halls of Bedlam" make sure you are a member of The Haunter's Toolbox. This contest ends June 24th. We give away FREE Halloween and Haunt prizes each month!! 
Click here to become a member for FREE!