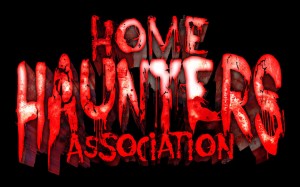 The results are in!! All you Haunters out there that have been waiting for the winners of the Home Haunter's Association Contest; the Top Three Home Haunts have been announced. If you haven't heard of this contest, then I suggest you go over to the Home Haunter's Association Website and enter next year. Here are the Top Three Home Haunt Videos:
1ST PLACE-THORNHILL WOODS HAUNTED HOUSE:
Chris Ainsworth
1 Krisbury Avenue, Thornhill, Ontario, Canada
The Thornhill Woods Haunted House is a good old fashion cemetery theme front yard haunt that's packed with elaborate monsters, animatronics, tombstones, lighting and sound effects. It's totally free of charge, but we ask everyone to donate to The Sick Kids Hospital www.sickkids.ca Here are some of the property features: Property is surrounded by stone columns with built in speakers, post lights and a (150′) wrought iron fence. Two large stone gargoyles on top of the columns as you approach the front entrance. Surround sound system with creepy music and thunder being played continuously. The property is lit up by more then 30 pot lights and other lighting accessories. Spooky porch lighting. Climbing zombies and other creatures breaking out of the ground surrounded by over 20 detailed tomb stones. Garage area is a Laboratory with a (8'foot) Animatronics Frankenstein that shakes violently as he is shocked to life. 8′ foot Creature that was born in the laboratory. Cannibal's Meat Shop refrigerated cooler stuffed with body parts for sale. Crawling (8′ foot) Vampire on porch roof.
2ND PLACE- DARKWING MANOR:
Creators: Tim and Tina Reuwsaat at 
4192 Coleman Creek Road   Medford, Oregon 97501
Darkwing Manor's story tells of the Baron and Baroness Reuwsaat, descended from a noble family of vampyres, who fled persecution in Wallachia several centuries ago. They settled at Darkwing and opened the Manor as a haven for Nosferatu and other Creatures of the Night. At Halloween, when the veil between the world of the living and the dead becomes very thin, visitors may encounter these restless souls. Patrons enter the Gothic-inspired 100-year-old home and tour the 19th century mourning and funerary collection, including coffins, mourning attire, woven hair art, gravestone rubbings, and other Memento Mori. In the back parlour they witness an authentic "laying out' scene and hear the story of the tragic ghost who haunts the house. After escaping the family's sinister chapel, guests enter the haunted grounds where a variety of horrors awaits them including the two haunted horse-drawn hearses in the Dismal Hollow Cemetery.
Darkwing Manor celebrated its 8th year in the Rogue Valley this season. For the first time ever, we were open three nights and had a total visitation of 3,131 people. We operate the haunt in our private two-acre yard and Victorian home, located in the farming country outside of Medford. We do not charge admission but encourage donations for a different charity every year. With seven domestic violence homicides in Jackson County this year, we chose Community Works as our charity of choice. Community Works operates the Dunn House Women's Shelter and sponsors domestic violence offender and prevention programs. This year we raised $9,330 for them, over twice as much as we gave last year. Our crew is 100% volunteer and this year we broke a record with over 100 people helping to put on the show. Our haunt scenes expand every year and it seems more people are required, not only to act but also for the support roles that go into putting on a smooth-running, well-lit, and safe show.
3RD PLACE: HAUNT 31
Toby Wrolson
340 S. Annandale Dr. Lake in the Hills, IL 60156
Haunt 31 is one of the fastest growing and most elaborate private haunted yard
haunts in or around Illinois. In its thirteenth year of operation, we have over
thirty pneumatic and animated props, many static displays, special effects, ambiance music, live actors, and more. Several thousand guests visit us each year. Best viewed after dark- Haunt 31 must not be missed! Be sure to experience the interactive electric chair ride. This haunt includes extensive displays covering the front yard, entire side yard, and garage with much attention to detail. Animation operates nightly weather permitting. Actors on many weekend nights. This is a residential haunted display. That said, this year we added a ton of new props, new static zombies, a witch in a shanty, and a banging coffin held by 4-skeletons.  We have built the prop controls on every prop and upgraded to efx-tek prop-1 controllers waterproof boxes, and new
laser sensors.  We had 1041 trick-or-treaters, and over 8,700 visitors for the
season.
Crazy doesn't describe it!
Congrats to the Top 20 Home Haunts of 2011!!
Broadview Bloodbath
Dark Shadows Haunt
Darkwing Manor & Morguetorium Museum
Falkirk Fearscape
Gargalese Gates of Terror
Happy Valley Cemetery and Grimm Manor
Haunt 31
Haunt on Williams
McKamey Manor
Pandemic Cemetery
Scare Hollow Haunted Yard
Scarriage Town
Sleepless Souls
Sleepy Hollow
Souls of the Forsaken
The Hideous Horror on Howe
Thornhill Woods Haunted House
The Wicked West Ghost Town
Village Mire
Willow Manor
Who Is Your Favorite? Leave a Comment Below…