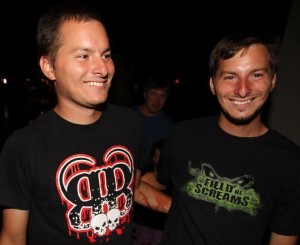 In Episode 16 of HaunTopic Radio we get The Bloodshed Brothers on the line & get their advice on How to Be Successful Your First Year in the Haunt Business, Using Social Media to Get Noticed in the Haunt Industry, and Where to Find Cheap Props for Your Haunt. Jeromy & Zach Ball are well known for their YouTube Videos (818 Videos at the time of this post); which highlight their adventures as Haunters, give you a sneak peek at their normal lives, & led them to be noticed by a local Haunted Attraction as two passionate Haunters. Passionate enough to be selected to design & manage The Field of Screams Haunted Stadium in 2011 & this year too!


Listen to Our Recent Interview With the Brothers Here: 

Podcast: Play in new window | Download (Duration: 54:26 — 62.3MB)
Here is a written Interview with the Bloodshed Brothers that I wrote back in 2011. I met them at Transworld for the first time this year & felt a bit "Star Struck" as I interviewed them in person on the show floor. I know they are just normal guys that like to Haunt with over 1,400 Subscribers on YouTube. I know they have only been publishing videos since 2009. I also know that they were easy to talk to as they spoke openly about their journey as Haunters. But what I don't know is how can anyone not feel a bit 'star struck' after seeing their faces on over 800 videos?
 The Field of Screams Haunted Stadium is located in Lake Elsinore, CA and will be open for the 2012 Season.


 Find The Bloodshed Brothers Here:
What Advice/Questions Do You Have About Starting Up Your Own Haunt?