Podcast: Play in new window | Download (Duration: 58:47 — 67.3MB)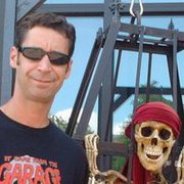 In Episode 29 we pull Steve O'Connor out of the garage for a minute and get his story on the early days of The Garage of Evil, some words of wisdom for any Haunter, and find out that he is like an Home Haunt Encyclopedia! He is so dedicated to share and provide value to Home Haunters around the world that we are not sure that he has even left the workshop yet…….Steve are you there?
The Garage of Evil Network is a community & knowledge base of Home Haunters that keeps growing despite the growing popularity of social media sites. There are many years of archives that you can gather ideas from or use for your next project. Here are a few links on the site:
If you are trying to find some clarity through all the social media noise & just want some solid ideas for your next Halloween/Haunt Project or you are looking for other Haunters like you then The Garage Of Evil Network is an awesome place to start.
FIND MORE OF STEVE O'CONNOR HERE:
Steve's Profile on Garage of Evil.com
Steve on Facebook
WE ARE TAKING A BREAK AND THE NEXT PODCAST WILL BE ON NOVEMBER 16TH. HAPPY HALLOWEEN!!!