Podcast: Play in new window | Download (Duration: 40:05 — 45.9MB)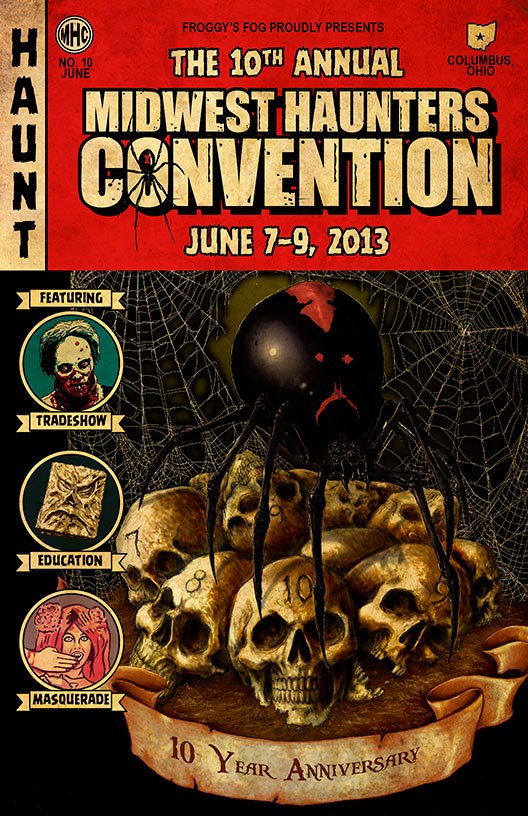 The Midwest Haunters Convention is the last Haunt Industry Convention of the year in the United States. If you haven't attended a Haunted Attraction Convention, Haunt Trade Show, or Haunted House Conference this year then this is your last chance! The Midwest Haunters Convention is located in Columbus,Ohio through the dates of June 7th through June 9th. Plus, a Pre-show Haunt Tour covering over 20 Haunted Attractions through June 5 & 6! There are still tickets and room available…but you better hurry…
We get Kelly Collins on HaunTopic Radio to give you the details behind the Midwest Haunters Convention, all of the shows and events, and some news about the Scare-a-Torium Haunted Attraction. (Kelly's Haunt) All of the prices are in this episode and make sure to check out the links below to find out more about all of the crazy cool stuff going on at the Midwest Haunter's Convention.
The Midwest Haunters Convention (MHC) is the largest Halloween show of its kind in the US serving Haunted Attraction Industry professionals and enthusiasts. The MHC features a tradeshow, education, chartered bus tours and entertainment; and it returns to Columbus, Ohio June 7-9, 2013 at the Greater Columbus Convention Center and Hyatt Regency Hotel for its 10th year.

The MHC Trade Show features a 60,000 square foot show room floor with over 100 vendors. Educational seminars and workshops as well as networking activities are offered. The 2012 MHC features a Monster Masquerade Costume Party featuring the Body Art Fashion Show and contests including the Bloody Mary Monster Makeup Wars Competition, Ms Midwest Scary Pageant & the Scariest Character Contest. The Midwest Haunters Convention is sponsored by Donat Insurance Services.
We hope you take advantage of all the conventions, trade shows, conferences, make-and-takes, costume parties, seminars, webinars, and social events tailored for Haunters. These gatherings may just give you that creative spark you have been searching for or you might meet someone who can help you in in your journey as a Haunter…
REMEMBER- To Win a HAuNTcon T-Shirt (large), You Must Be a Member of HaunTopic Radio. It's FREE. Reply to One of Our Emails We Have Sent Out With 'CONTEST' in the Subject Line By May 24th. That's It. One Winner Will Be Picked This Month. If You Are Not a Member Become a HaunTopic Member By Clicking Here.
Topics we talk about in this episode: