Podcast: Play in new window | Download (Duration: 35:54 — 49.3MB)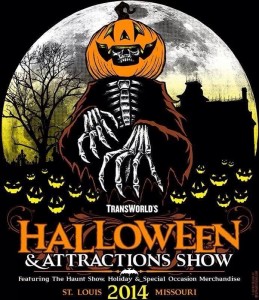 If you are planning on attending the Transworld Halloween and Attractions Show in 2014 on March 20-23 located in St.Louis, Missouri then you won't want to miss this episode of HaunTopic Radio! We talk to Ann Marie Gavinski from the Wisconsin Fear Grounds and Education Coordinator for Transworld about what to expect this year at the show. If you are interested in the education, the parties, the networking, the new stuff to buy, and all else Transworld then here is your chance to get a head's up.
TransWorld's Halloween & Attraction show is the only industry trade show of its kind in the world.  There is no other show that has as many exhibitors and industry related products. For the last 19 years, TransWorld's annual Halloween & Attractions show has created the market place for the Haunted House industry. Each year the Industry gathers to network, get new ideas and purchase products.  This show is a must attend event if you are thinking about opening or currently operate a Haunt, Corn Maze, Farm, Pumpkin Patch, Paint Ball Field, Family Fun Center, Amusement Park, Zoo, Aquarium, Halloween Retail Store or anything Halloween related.  We have everything you need to make your Halloween season a success.   Each year, the show continues to grow with new exhibitors, new products, and more buyers on the show floor. The Halloween & Attractions Show combines the products and knowledge of over 300 exhibitors that you need to see this March! – HAASHOW.com
The Topics in this episode: 
Sign Up for our Online Class "Advanced Haunted Attraction Design by Leonard Pickel"
Thanks to our sponsors this month! If you would like to sponsor one month of HaunTopic Radio feel free to contact us. 

Marcus Constable won this hand crafted 'Melted Molly' latex mask from Face Factory FX

Tim Warner & Allena Williamson won a 2014 Haunted Halloween Calendars (with Haunt Photos from all over the world!)

Sign Up Here (FREE) If You Are Not Currently a Haunter's Toolbox Member and to be included in the next giveaway.